LAST MONTH, BRIE Larson made headlines when she presented Casey Affleck with the Academy Award for Best Actor and pointedly refused to clap for him.
Many viewers interpreted Brie Larson's refusal to clap as a response to the sexual harassment claims that have swirled around Affleck since the beginning of awards season.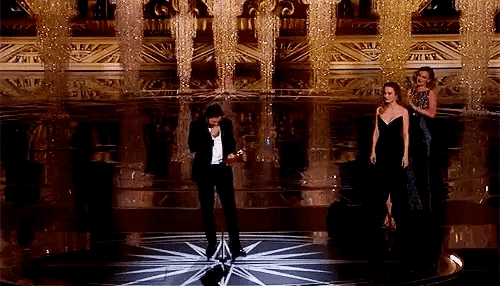 The Manchester by the Sea actor settled two cases out of court in 2010 after two female crew members alleged that he sexually harassed them on the set of his film I'm Still Here.
By contrast, Larson played a survivor of sexual abuse in Room last year. She also stood up to hug sexual assault survivors who appeared on stage with Lady Gaga at last year's Oscars ceremony.
Larson is currently doing the media rounds in support of her latest film, Kong: Skull Island. Naturally, some media outlets have attempted to quiz her about her refusal to clap for Affleck at the Oscars.
And her responses have been superbly shady.
In an interview with Vanity Fair earlier this week, she said that her gesture "spoke for itself".
I think that whatever it was that I did onstage kind of spoke for itself. I've said all that I need to say about that topic.
She refused to be drawn on it in another televised interview and played the reliable "I don't remember!" card.

Daily Mail Daily Mail
 I am grateful it was televised because I have no memory of it.
Many have applauded her stance.
Susu Croft Susu Croft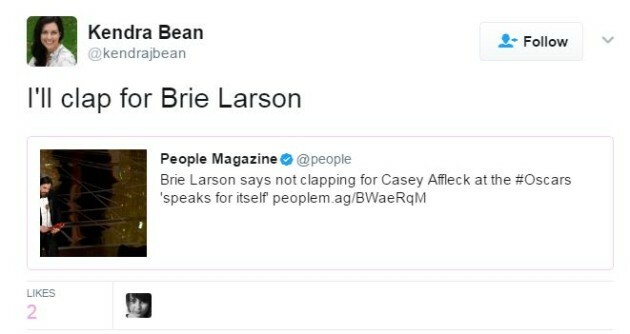 Kendra Bean / Twitter Kendra Bean / Twitter / Twitter
While others have bemoaned the fact that she had to defend her position in the first place.
For his part, Affleck has denied the accusations leveled against him and mostly declined to comment on them.
In a recent interview with the Boston Globe, he said, "I believe that any kind of mistreatment of anyone for any reason is unacceptable and abhorrent, and everyone deserves to be treated with respect in the workplace and anywhere else."
There's really nothing I can do about it. Other than live my life the way I know I live it and to speak to what my own values are and how I try to live by them all the time.
DailyEdge is on Snapchat! Tap the button below to add!