A BULLY WAS left more than a little red faced when he accused Halsey Parkerson of having no friends.
He was wrong, very wrong.
Parkerson met his aunt Delyne Steele for lunch in his Oregon school, South Salem High School, last week. While there, she overheard a bully say that her nephew "didn't have any friends and no one cares".
Steele set out to prove him wrong, and took to her Facebook car club group, Cherry City JDM Buy Sell Trade to get help. A user later posted this message to rally the troops:
There is a kid getting bullied at South Salem High School. The other kids in the school are telling him he isn't cool, he doesn't have any friends, etc…his lunch is at 12 Noon – so I would like to try and get a few cars together to go help his Aunt show up with a bunch of legit cars and trucks and bikes, etc, and just give the kid his own car meet! anyone going please be respectful. reason why we are doing this is because of bullies and and want to end it. NOO REVS OR BURN OUTS PLEASE!.
The response was huge, with 50 vehicles containing 100 people showing up to support Parkerson in the school car park.
Look at all these FRIENDS. Some had come from Vancouver, which is over 350 miles away.
Parkerson was overjoyed with the response. Speaking to KATU news, he said:
It's just unbelievable. I now know whenever I get bullied I'll raise my head up and say, 'Sorry, I have too many friends to think I'm being bullied'. If you're being bullied, stand up and express yourself.
As for the bully, he appeared on camera to apologise to Parkerson, even giving him a high-five.
I apologise, I apologise. I take it back.
Halsey later used Facebook to thank all of his "new friends out there" for making him a local celebrity.


He also posted this photo of his new mates jamming up the school's tiny car park.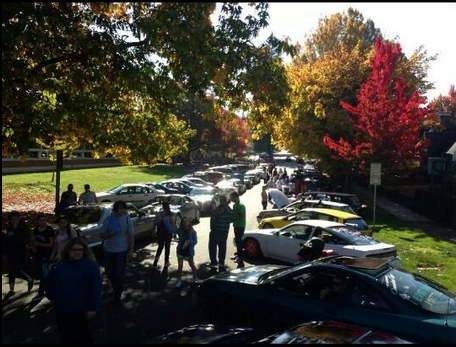 Facebook / Halsey JJ Parkerson Facebook / Halsey JJ Parkerson / Halsey JJ Parkerson
All's well that ends well.