Updated at 6pm
THERE MAY BE hope for Buncrana Fifty Shades fans yet. Reports today suggest that St. Mary's Hall Cinema in the Donegal town of Buncrana will not be showing the highly-anticipated Fifty Shades of Grey movie – but not, it seems, because of its sexual content.
It was reported earlier today that the cinema, which is situated in the local parochial hall, has the listing on their website, but have made the decision to not show the movie–according to various reports.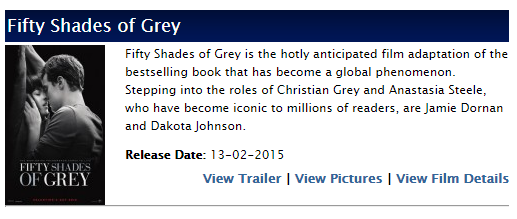 thecinemabuncrana thecinemabuncrana
Local resident and Christian campaigner Mary Doherty told the Inishown Independent that it was a 'relief' to know that it would not be screened. "It's perverted," she told DailyEdge.ie this afternoon.
Why go to the cinema to watch other people have sex? It's perverted. If I go to the cinema I want to be entertained.
Not only that but it promotes violence against women. There's enough violence in our society without showing it on screen. What is the point of all those groups protesting violence and prostitution if they're just going to release this? It's harmful.
The cinema, however, have denied reports that they are not showing the film in response to her protests.
In a statement posted on their Facebook page, Buncrana Cinema said:
Hey folks. The real reason we aren't showing 50 Shades of Grey is because the distributor didn't give it to us! Unfortunately, as a small community run cinema, we don't have the capacity to run 4 shows a day, 7 a days a week! Anything else you hear is made up!
When contacted by DailyEdge.ie Doherty said that since that call, the cinema got in touch with her to say she had 'no right' to discuss the decision, and because of "her big mouth" things might change. 
While she says she's upset at the hassle she's caused, she still maintains that the film should not be shown in Ireland at all for "obvious reasons".
She says she's familiar with the contents of the book as it has been flying off the shelves, and she's heard that it includes bondage, sexual violence, and other "mumsy porn". She was also sent a clip from the movie, which she says is an attempt to "push the boundaries to get porn and sexual content into the cinemas".
Faced with the decision potentially being reversed, Doherty regrets speaking out about it so soon.
Maybe I shouldn't have said anything. 

I hope it won't be shown.