BURGER KING HAS proposed an unlikely truce with rival McDonald's. The fast food giant took out full-page ads in the New York Times and the Chicago Tribune to ask McDonald's to join forces for one day only.
To celebrate International Day of Peace, they want to open a pop up store in Atlanta and sell a McWhopper, a fusion of both the chain's trademark burgers. They say it will be co-branded and the store should be manned by both staff.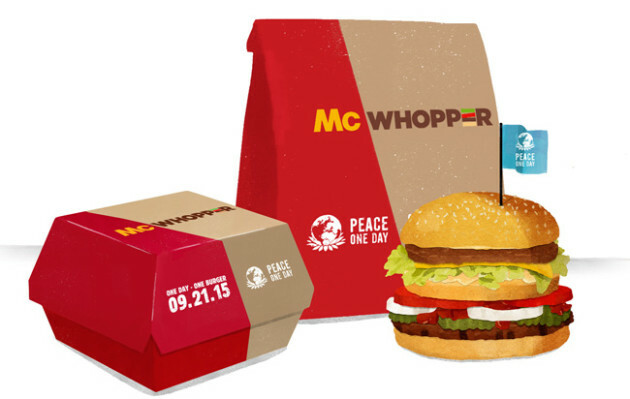 Burger King Burger King
The proposed day is September 21, and all proceeds will go to the Peace One Day. This is how they think it will work:
BURGER KING / YouTube
They wrote on a Tumblr blog
Peace One Day is a non-profit organization campaigning to make Peace Day September 21st an annual day of global unity. They have a powerful rallying call 'who would you make peace with?' which inspired us to lead by example and extend an olive branch of our own. We'd like to propose a one-off collaboration between Burger King and McDonald's to create something special, something that gets the world talking about Peace Day.
Your move, McDonald's. Make this happen!
UPDATE:
McDonald's have responded and shot down any chance of this happening. BOO. They write on Facebook:
Dear Burger King,Inspiration for a good cause… great idea.

We love the intention but think our two brands could do something bigger to make a difference.

We commit to raise awareness worldwide, perhaps you'll join us in a meaningful global effort?

And every day, let's acknowledge that between us there is simply a friendly business competition and certainly not the unequaled circumstances of the real pain and suffering of war.

We'll be in touch.

-Steve, McDonald's CEO
P.S. A simple phone call will do next time.