AFTER A GREAT DEAL of weeping and moaning, we have finally received an explanation for the revelation that rocked our world.
Yesterday we discovered that Cadbury had changed the Roses selection for this Christmas: the green caramel sweet has been replaced with Coffee Escape, and the Dairy Milk chunk has been scrapped completely.
There was widespread opposition to the move: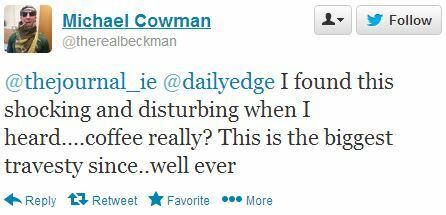 What Cadbury told DailyEdge.ie about this year's inclusions and omissions will surprise you:
This year coffee has been brought back due to public demand. We've also replaced our Cadbury Dairy Milk seet with a new Rose signature sweet, a pure chocolate truffle, which is in the shape of a Rose flower…We'd also like to reassure fans of the Cadbury Dairy Milk sweet that it still features in our Heroes assortment.
Public demand for coffee. Where is this "public"? And WHY are they demanding coffee sweets?
Cadbury continued:
This Christmas, we hope there will be a Rose to satisfy every member of the family.
We have to believe they're acting in our best interest, everyone. Maybe this is for the greater good.