YOU MAY HAVE read about Stubbs before. The short-tailed part-manx was elected mayor of a small Alaskan community 15 years ago.
However, Stubbs is noticeably absent from the town this week due to accuiring serious injuries in a vicious dog attack in Talkeetna.
The town of 900 has no human mayor, so you could say 16-year-old Stubbs is the reigning leader.
Saturday's attack by the loose dog left Stubbs with a punctured lung, bruised hips, a long deep gash on his side and a sternum fractured to the point it might need to be repaired with a plate.
Stubbs' owner, Lauri Stec, who manages Nagley's General Store, where the orangey-beige cat lives said:
Stubbs' owner, Lauri Stec, who manages Nagley's General Store, where the orangey-beige cat lives has reported the attack with borough animal control officials.
Because the cat was so severely injured, Stec has not been allowed to visit him at the veterinary clinic that took an hour to get to after the nighttime attack. A local veterinarian went with her for the long drive in heavy rain. Because it wasn't a sure thing that Stubbs would even make it to the emergency treatment, the vet took along a euthanasia kit.
Stec has gotten the go-ahead to pay a brief visit to Stubbs Thursday afternoon. The next few days will be crucial in his recovery, but the cat has begun to sit up and eat. A tube inserted his lung has been removed.
Geoff Pfeiffer, a waiter at the cafe located inside the same building as the general store said that
We all love him. It's like Elvis has entered the building.
The staff there is hanging on to Stubbs' wine glass, hoping they get to fill it again with water and a catnip garnish, a feline cocktail for a regular who commands attention every time he comes in.
Stubbs has his own Facebook page, filled with posts this week from well-wishers around the world. He also has his own Twitter page, which has been tweeting his recovery.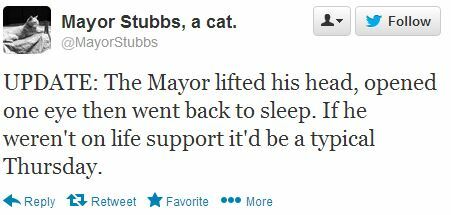 Before Saturday, Stubbs had already used up a few of his nine lives. In the past, he has been shot by a BB gun, and still has a BB lodged inside. He's fallen into a cold fryer vat at the West Rib when the staff was changing the oil. He rode on a garbage truck before jumping off.
Donations from well-wishers as far away as Australia have been pouring in for Stubbs' veterinary bills. There's also a jar for donations at the general store placed near a photo of Stubbs.