OH, AMERICA. LAND of the free and home of the brave.
Yesterday our neighbours celebrated July 4th with barbecues, pool parties and fireworks. But how did the celebrities mark the occasion, you ask?
We've got you sorted.
Firstly, Ed Sheeran decided to troll the entire concept of Independence Day by wearing an England jersey.
Lest the Americans forget, you know yourself.
Christina Aguilera starred in her very own red, white and blue-themed photoshoot.
Casual.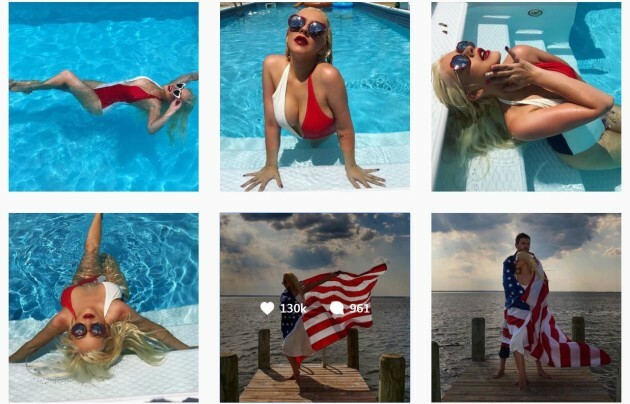 xtina / Instagram xtina / Instagram / Instagram
Lena Dunham flashed a rather stern peace sign and urged fans to celebrate with "a touch of inappropriate under to outer garment ratio".
Reese Witherspoon marked the occasion by posing for a photo with her daughter (read: scientific clone).
How alike are they, though?
Nicki Minaj wore a patriotic swimsuit and cap.
While The Rock shared a very sombre photo of him at the National Centre for Civil and Human Rights.
As well as this fan video, which indicates that he's not opposed to the idea of running for President.
Vin Diesel posted a selfie :)
Kirsten Dunst drank a coffee with a tiny American flag stuck on top.
Powerful.
Blake Lively partied with her teen nephew.
Kristen Bell and Dax Shepard wore star-spangled onesies.
America! F**k yeah!
Tyra Banks celebrated the best way she knows how. By donning a patriotic hat and doing a full-on photoshoot as Auntie Sam.
Miley Cyrus referenced her patriotic classic Party In The USA.
The unofficial national anthem.
Karlie Kloss shared this extremely chill photo of her standing in front of a… SpaceX rocket?
In real life, she was partying in Paris with Emily Ratajkowski.
Sofia Vergara wore a goofy hat and came perilously close to dropping that big hunk of meat.
Drew Barrymore beamed by a swimming pool.
*beams*
Chrissy Teigen celebrated with this touching Smirnoff ad, lol.
I'm celebrating this 4th of July with stars, stripes, and @SmirnoffUS!  Get your America on with my partner Smirnoff's limited edition Red White & Berry vodka. It's smooth, 10x filtered, and gives your party dranks a patriotic touch the founding fathers would be proud of.
*wipes tear from eye*
While Hailee Steinfeld celebrated with some sponsored flip flop content.
Mariah Carey posted the most Mariah Carey photo of all time.
Paris Hilton celebrated by wearing a variety of America-themed outfits in Ibiza.
Stun hun.
Diane Kruger, a naturalised US citizen, made a delicious-looking cake.
And Calvin Harris urged people to buy his album.
George Washington would be proud.
DailyEdge is on Snapchat! Tap the button below to add!