IT'S ALL OVER for another year, but these celebs went all out.
1. Justin Timberlake and Jessica Biel
They took their little son out trick or treating dressed as the whole Toy Story gang. Unreal.
Help.
JessicaBielNews JessicaBielNews
2. Second runner up for best family costume has to be Neil Patrick Harris and his lot
They channeled a show of…curiosities.
3. Of course, Queen of Halloween Heidi Klum kept her title
She went as a beast from the Thriller video.
Yes, she's under there somewhere. The EFFORT.
Evan Agostini, PA Evan Agostini, PA
4. Bruce Willis and his assistant Stephen J Eads NAILED it
5. Will Poulter is the actual real life Sid
PoulterWill PoulterWill
6. LeBron James and the biggest, scariest Pennywise we've seen this year
7. Gwyneth Paltrow spoiled the end of Sev7n for us
8. Kim and Kourtney Kardashian as 90s Michael Jackson and Madonna
9. Sarah Hyland as Dustin from Stranger Things
10. Beyonce and Jay Z as Kim and Biggie
11. Zayn as Spiderman
12. And Gigi as The Black Cat
13. Amber Rose and her son Sebastian as Chucky and Tiffany
He's pure playing the part.
14. Alan Carr as Gemma Collins
And Gemma praised it.
15. A pregnant Jessica Alba was Juno
16. Ed Sheeran showed up to a party as…
Some kind of pimp?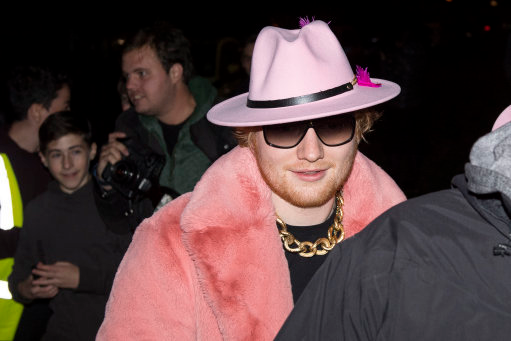 Victoria Jones, PA Victoria Jones, PA
17. Holly Willoughby transformed herself into a full unicorn
18. Lauren Conrad went as Cruella DeVil
19. But so did Cardi B, with a damn Dalmation
20. Aubrey Plaza does a scarily good Wednesday Adams
21. Khloe Kardashian kinda sorta confirmed she's pregnant with her couple's costume
Yes, that's Drogo and Daenerys, with a weird baby head.
A good one was had by all.
DailyEdge is on Instagram!