EACH WEEK, WE'LL be taking a peek into some of our faves' makeup bags to see their must-have products, because we're nosey. This week, it's the turn of beauty blogger and Youtuber Erin (Chasing Rubies). You can follow her on Instagram here and read her blog here.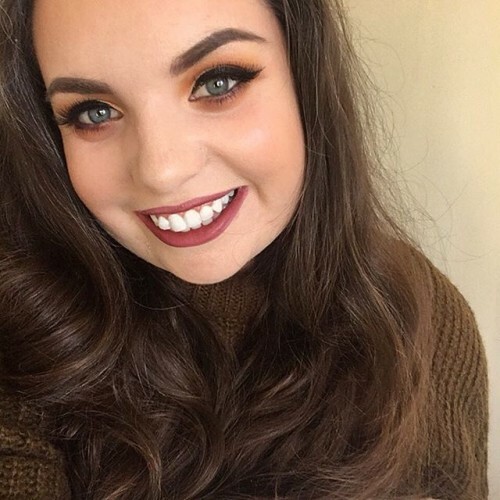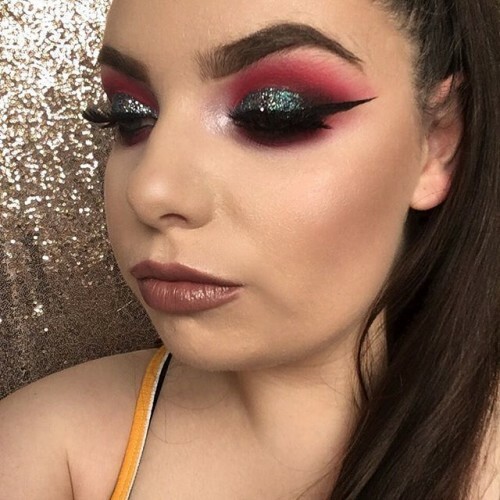 Her earliest makeup memories
"My earliest memory is sitting on the ground in my kitchen when I was maybe 8/9, with all the makeup I'd gotten for Christmas that year set up on one of the kitchen chairs. I adored it and spent hours every day playing with my little sets!
From there I remember wearing big white headbands to school with foundations that were way too dark for my skin tone and thick heavy eyeliner and mascara – thank god selfies weren't really a thing in those days!
"After that my acne got quite bad, so I stopped wearing makeup pretty much altogether aside from the odd teenage disco. It wasn't until my second year in college that I found makeup and fell in love all over again.
I have always loved a dramatic smokey eye or a bold lip, sometimes both! I guess over the years that's become my signature look!"
Her makeup bag and what's inside
"I got this in Penneys, I cannot resist anything Disney! It's actually quite big and fits loads into it and because of the material it's super easy to keep clean and to travel with!"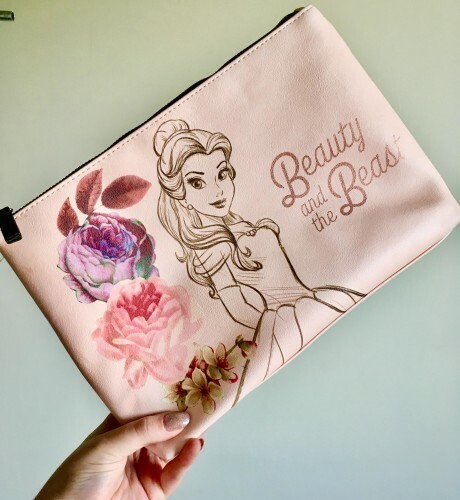 "These are my absolute essentials – scaling it back to just these products was tough let me tell you!"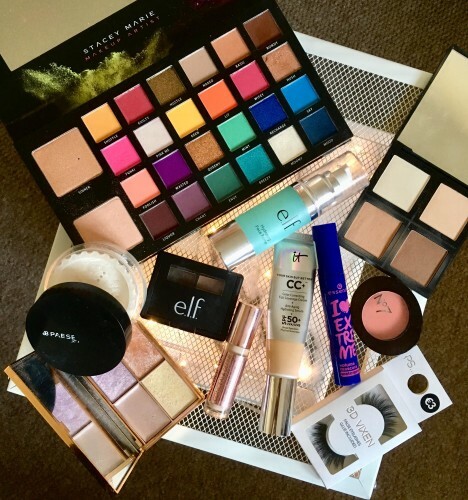 Clockwise from top left: Bperfect Cosmetics Stacey Marie 'Carnival' palette, e.l.f. Hydrating primer, e.l.f. contour palette, No7 powder blush in 'Peach Velvet', Penneys 3D false eyelashes in 'Vixen', Essence I Love Extreme mascara, , IT Cosmetics CC Cream, Makeup Revolution Conceal and Define concealer, e.l.f. eyebrow kit, Sleek 'Solstice' highlighter palette and Paese rice powder.
"First up is primer, I'm a dehydrated gal with acne so this e.l.f. Hydrating primer is very necessary. It feels like a hybrid between an oil and a silicone primer, so it works really well for my skin. It gives all the hydration I need and it helps smooth my pores so that my foundation has a nice base.
"For my base, I am obsessed with the IT Cosmetics CC cream! A cult classic in the beauty world and I can see why. It's very lightweight but gives insane coverage! As someone who has struggled with acne for over 10 years, finding something that covers your scars and breakouts and gives you a boost of confidence without feeling caked in makeup, makes such a difference! Did I mention it also has SPF 50? This CC cream can do no wrong in my eyes!
"My favourite concealer of all time is the Makeup Revolution Conceal and Define concealer. Lots of people have said it's a dupe for the Tarte Shape Tape and I have to agree. It is very full coverage, blends out beautifully and only costs about a fiver, what could be better?
"Even though my skin is dehydrated, I still get an oily t-zone so I tend to set the centre of my face with the Paese Rice Powder. This is the best powder I have ever tried and fingers crossed I'll never be without it! It gives such a lovely finish to the skin whilst keeping all those oils at bay!
"For bronzer and contour I have been loving the e.l.f. contour palette for the last 6 months or so! The shades are perfect for my pale completion and as they aren't too warm/cool toned
"For blush I had to go with an oldie but goldie, my No7 powder blush in the shade 'Peach Velvet'. This was actually matched exactly to my skin tone at the No7 counter and I haven't looked back! It's very pigmented, you only need a tiny amount but gives a lovely flush to the skin.
"For highlight so bright that you can see it from space (my favourite kind of highlight) I always turn to the Sleek Solstice palette! The formula is just amazing, it's very pigmented but doesn't make my skin look overly textured which a lot of highlighters can do. I am particularly obsessed with the purple shade – I think it's absolutely stunning!
"For years I have used the Benefit Brow Zings exclusively on my brows but at €33 a pop I've been on the hunt for a cheaper alternative, I'm a bargain queen at heart! I came across the e.l.f. Eyebrow Kit and loved it immediately. Half is wax and the other half is powder and for me, that's perfect. I'm not a big fan of eyebrow pencils, I much prefer carving out my brows with a brush.
"If you've ever seen my Instagram you'll know that I'm not afraid of a bit of colour of the eyes so when Bperfect came out with the Carnival palette I knew I had to get my hands on it! It's the perfect mix of easy neutrals and bright colours, ideal if you're heading away and haven't a clue what way you'll be doing your makeup. It also has two highlighter shades in the palette so again, super handy for travelling! It is a little saucy at €45 but trust me, it is worth every penny! The eyeshadows are so pigmented and blend like a dream! I cannot say enough good things about this palette!
"I have been using the Essence I <3 Extreme waterproof volume mascara for the last few months! I repurchased it about three times so far and don't intend on stopping any time soon. It's only €3.50 and rivals a lot of high-end mascaras! I'm unfortunately not blessed with beautiful long eyelashes, so this mascara works wonders! It lasts all day, holds a curl, doesn't flake off and ultimately does its job!
"Penneys have been upping their beauty game over the last few years and they have truly knocked it out of the park when it come to their false lashes. When I started wearing false lashes I struggled big time, so the 'Sultry' lashes were amazing as the band is so thin, but in more recent years I have gotten more comfortable applying heavier lashes and now I wouldn't be without my 'Vixen' lashes! They are just stunning, any time I wear them I get so many compliments! They really change the shape of your eyes and just make me feel fabulous any time I wear them!"
DailyEdge is on Instagram!