IT'S NOT MCD. It's not Aiken Promotions. And it's not POD.
So just who is in charge of the Chris Brown gig in the O2 this December?
Calls to three of Ireland's main promoters from TheJournal.ie today has seen them confirm that they're not responsible. A spokesperson from the O2 has confirmed that it's an English company behind the gig.
Brown hasn't announced any UK dates as part of this tour. In 2010 he was refused entry to the UK because of the Rihanna assault.
A Home Office spokesperson told TheJournal.ie that they're unlikely to make any comment on the current status of any one individual. Back in 2010 the Home Office said that it reserved the right to "refuse entry to the UK to anyone guilty of a serious criminal offence".
A court hearing about Brown's community service stemming from the assault conviction was delayed this week. He's due back in an LA court on Monday.
Frankie Boyle v Team Breezy
Meanwhile controversial comedian Frankie Boyle is gearing up to go head-to-head with Brown in Dublin in December.
He's been one of the biggest critics of the singer since it emerged that Brown assaulted then-girlfriend Rihanna in 2009.
Boyle put Brown firmly in his place in August when he responded to a tweet from the singer which read:
Serious tweet! I think skateboarding and breakdancing should be an Olympic sport!
Boyle's response?

Now that Boyle has realised that he's going to be in Dublin on the same night that Chris Brown is playing a the O2 (tickets for the 3 December date went on sale this morning) he's having another go: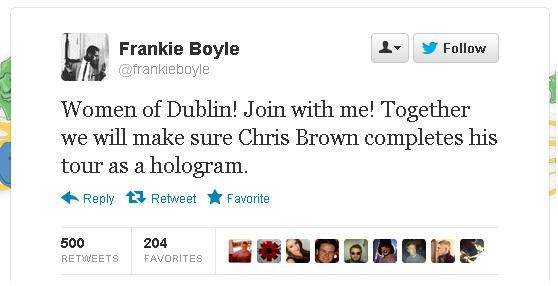 There are a lot of 'Chris Brown is coming to Dublin. YAY!' activity on Twitter about the O2 show, but there's also some who are less than happy about it. Let's have a look:
Chris Brown in Dublin

Chris Brown in Dublin

Chris Brown in Dublin

Chris Brown in Dublin

Chris Brown in Dublin

Chris Brown in Dublin

Chris Brown in Dublin