CHRIS BROWN HAS been eliminated.
From Twitter.
Sorry if you got excited there.
The US rapper, most famous for assaulting his ex-girlfriend Rihanna, had an insult exchange with comedian Jenny Johnson last night before deleting his account.
But this is 2012 and when something happens on the Internet, it will not disappear.
Screengrabs galore.
It all started with this tweet and reply:

If you don't want to scroll through the whole argument, it was summed up succinctly by Johnson herself.
And this is everything that happened in between:




According to Celebrity Tweet, Brown's last tweets were addressed to his army of fans which he calls Team Breezy.
"To teambreezy… Know that I'm not upset. Just felt like entertaining the ignorance. These bitches crazy..Further proved my point of how immature society is. #CarpeDiem…Catch me in traffic…"
Team Breezy then showed their love for the rapper by tweeting replies to Johnson. She posted her favourites:

And provided a handy translation.

Before Brown (eventually) got the good sense to delete his account, he pronounced himself the winner of the spat and got his girlfriend/ex-girlfriend/friend on the case.
Rihanna asked what she thinks is the big question.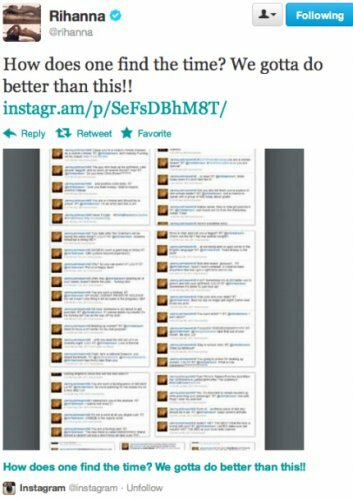 That contribution to life has also been deleted. However, the superstar who appeared on the UK version of the X Factor last night, left up some retweets from Team Breezy.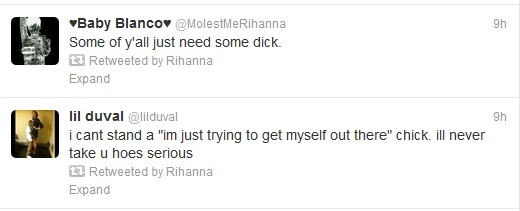 Were you able to follow all that? The important part is still that Chris Brown has removed himself from your Twitter feed. Maybe the record labels could follow suit and remove him from, well, everywhere else?