As it's Christmas, DailyEdge.ie got in touch with some Irish people spending the day in different parts of the globe. From the other side of the world in Australia, to across the pond in London, here's how their Christmas measures up to ours at home.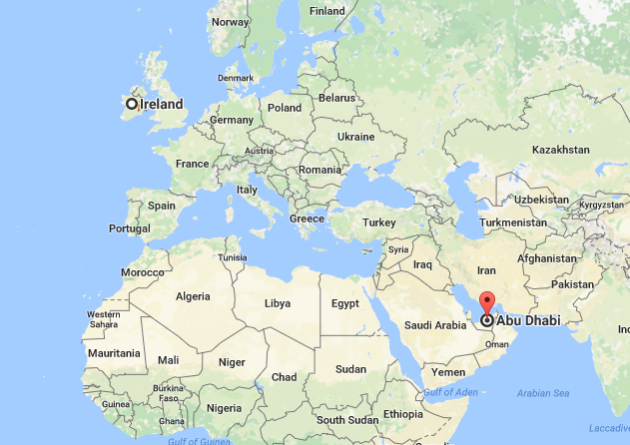 Google Maps Google Maps
Location: Abu Dhabi, United Arab Emirates
Brian Cummins has been living in Abu Dhabi in the United Arab Emirates since August 2010, where he founded AbuDhabiPaddy.com, an online community for ex-pats in the area. He took a career break from teaching at a primary school in Dublin, and he's been there ever since.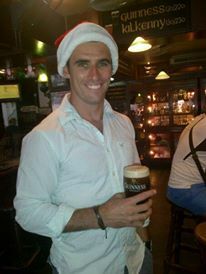 Brian Cummins Brian Cummins
His Christmas will be spent with his wife Caoimhe, sons Daithi and Tomas, and his brother in law Ciaran and his partner Rachel.
We went home last Christmas but we decided to have our Christmas dinner in the sun this year.
Getting home can be challenging
We"ll miss everyone, but with the cost of Christmas flights for a family, flying with two young boys, the obvious change in weather, packing for the colder and wetter climate and trying to see as many people with children can be challenging.
The young Irish community in Abu Dhabi is enough to make it feel Christmassy abroad. Sure he's spent it in Australia, Thailand, and Dubai over the years.
The obvious benefits of being home in Ireland for Christmas will be missed, though.
I miss getting the opportunity to catch up with our families and our close friends. We go to mass on Christmas Eve and after we open our presents all together, which is great.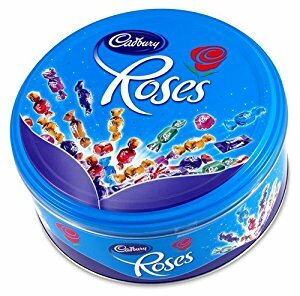 Amazon Amazon
On Christmas day itself, the Irish craic just can't be beaten.
We have a goose for Christmas dinner which is unusual, waking up on Christmas morning donning on our Christmas outfits, sitting down to Christmas dinner, pulling Christmas crackers, reading out the jokes, slaggings, trying to fit in desert and then dosing off in the couch in a food coma.
But for some ex-pats, Christmas at home will have some sad memories.
It can be a tough time too for us because my mum was great on Christmas Day she'd have it all sorted for us. She was always the last to sit down to have her Christmas dinner making sure everyone had enough. We visit her grave and if possible go to my Nana's remembrance mass in Scariff.
Missing the little things
So what does a man living in sunny Abu Dhabi miss in our little country stuck in the freezing cold weather?
Scoffing through the boxes of roses, finishing a whole box of Pringles, having some turkey and ham, sipping away on mulled wine and having a few creamy pints with friends on Stephen's Day, then someone will get out a deck of cards or a board game for the right craic.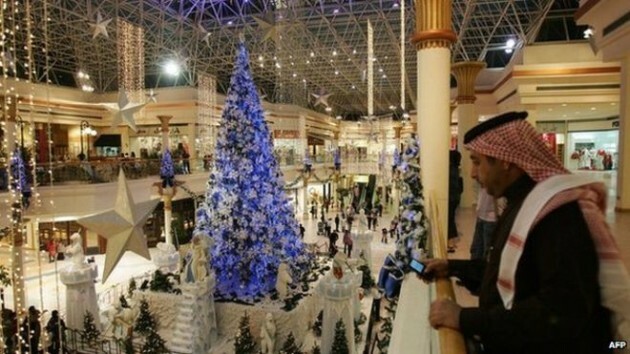 Brian Cummins Brian Cummins
Things are quite different in the U.A.E., but not worse
Christmas isn't a public holiday in the emirates, but it's still respected.
There are large expat communities in Abu Dhabi, Al Ain and Dubai with loads of Christmas markets, Santa Grotto's, mulled wine, 12 pubs, Christmas jumpers, Christmas masses and plenty of malls to do some Christmas shopping.
Christmas is often spent in the desert, with some cooking their own dinner, ordering from restaurants, or going to hotels to have the traditional Christmas dinner.
One of the main benefits, obviously, is the weather.
Having sunshine on Christmas Day and sitting down to your Christmas dinner in a pair of shorts ain't so bad!
DailyEdge is on Snapchat! Tap the button below to add!