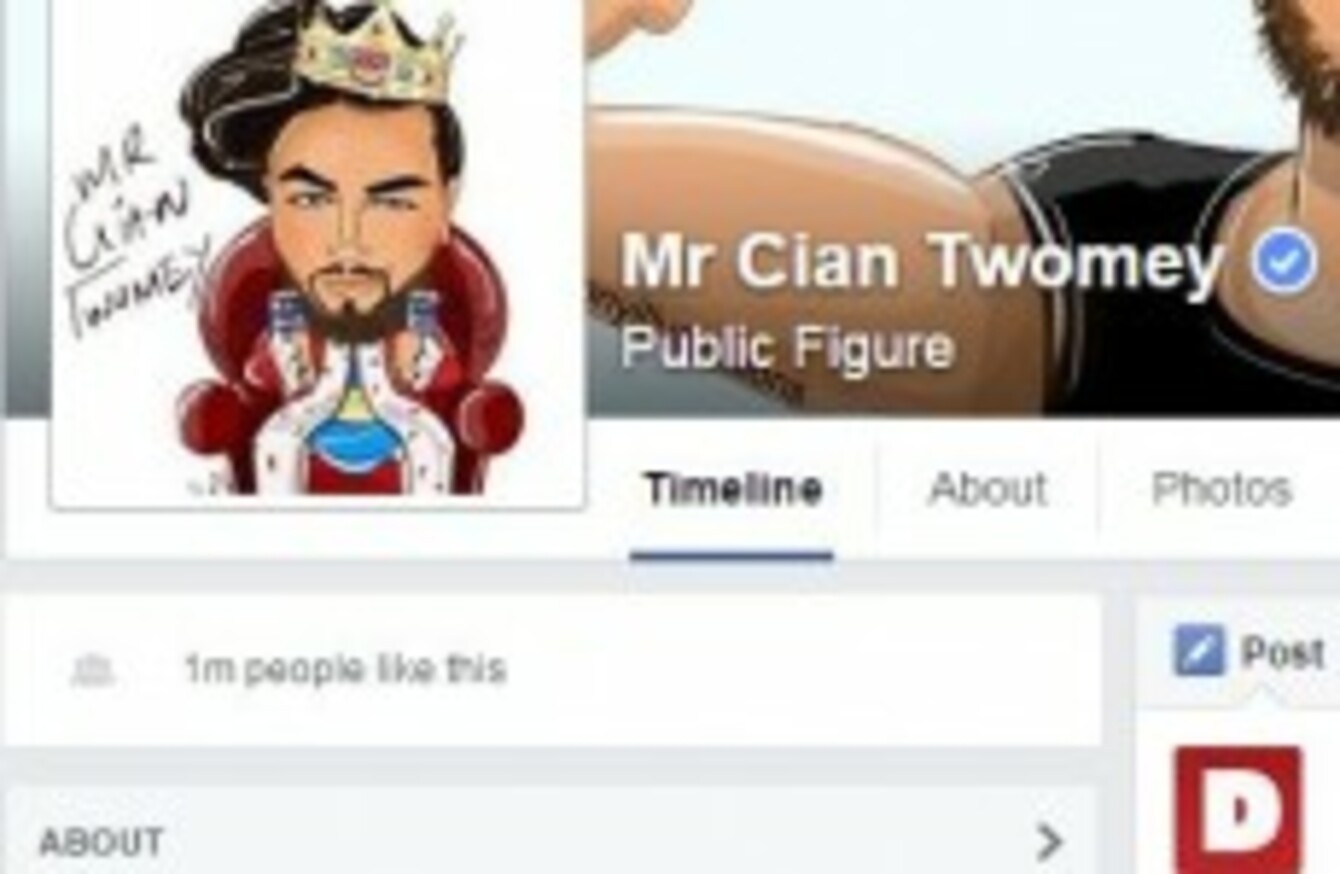 YOU MAY NOT have heard of comedian and vlogger Cian Twomey, but chances are some of your Facebook friends have already "'liked" him and his videos.
The Cork native is a veritable Facebook phenomenon and recently hit 1 million likes on his Mr. Cian Twomey page.
How did it all happen?
Last year, Twomey came to the public's attention with a series of videos about Irish mammies, grannies and everything in between. He quickly amassed a rabid following, which has grown exponentially in the last year.
Source: DailyEdge.ie/YouTube
Since then, Twomey has branched out and become known especially for playing an exaggerated version of his girlfriend, Emily.
Twomey is prolific in his output and regularly posts videos with titles like "When your girlfriend loses your temper" and "When your girlfriend asks you for a sip of your drink".
The videos routinely garner millions of views and thousands of likes.
For example, a video entitled "When you don't save your girlfriends number with a love heart in your phonebook" has been watched an astonishing 3.6 million times and liked over 107,000 times.
Not too shabby.
In fact, his popularity is such that he actually sells t-shirts, which routinely sell out.
In short, a lot of people really love him.
Sure, here he is having a chinwag with Bressie.
Best pals.
As his star has risen, however, he has been subject to a certain level of criticism.
His videos have been called "misogynistic" and he frequently finds himself on the receiving end of abuse.
Twomey told DailyEdge.ie that the positive comments outweigh the negative comments 1000 to 1, and stated that he "couldn't care less" about the negative comments.
Yes, the more followers you get, the more negativity comes. But so does positive comments. So whenever I see it, I just compare the ratio of negative to positive and realise that for ever 1000 positive, there's 1 negative.
In other words, I couldn't care less what people have to say about me if its negative, I'm doing something fun and different with my life, and if people are sad enough to say negative things about that, then I know they're not worth even looking at.
Twomey has also been called out for his portrayal of his girlfriend, Emily, as hysterical and crazy.
However, Twomey tells DailyEdge.ie that the character he plays is nothing like his real-life girlfriend, Emily Rochford, and stated that people need to "lighten up".
…people saying that my videos are misogynistic, people need to lighten up and enjoy the humour, it's light hearted after all.
As for what his girlfriend makes of it all?
She has starred in a few of Twomey's videos herself, so we guess she's cool with it.
So, is it possible to, you know, make money from 1 million likes? Apparently, yes.
As Twomey tells DailyEdge.ie:
Yes, I managed to quit my job last week! So I'm over the moon because of it! Although I will miss all my boys in the Factory, I am a lot happier now.
And he seems to have big plans for the future with his chief aim being to get his own TV show. ("Who knows, it may be already in production?")
A few days ago, the comedian tweeted about a collaboration with Dapper Laughs, the comedian who found himself at the centre of controversy last year when he was accused of trivialising sexual harassment.
Of the possible Dapper Laughs collaboration, Twomey said, "Myself and Dapper only started talking recently. When you get a big following, you get to meet others with a big following, Dapper happens to be one of them."
He could not confirm whether a video was in the works, but hinted that it could happen down the line.
Ah it's nothing guaranteed, just something we'd like to do together in the future!
For now, though, Twomey is just grateful to be able to do what he loves.
It's a dream come true to make a living from something I love doing. I will always remain humble and honoured to have this opportunity. So thank you, for making my dream a reality.
You can watch Twomey's videos here.