EACH WEEK, WE'LL be taking a peek into some of our faves' makeup bags to see their must-have products, because we're nosy. This week, it's the turn of self-taught makeup artist Ciara Doyle. You can follow her on Instagram here.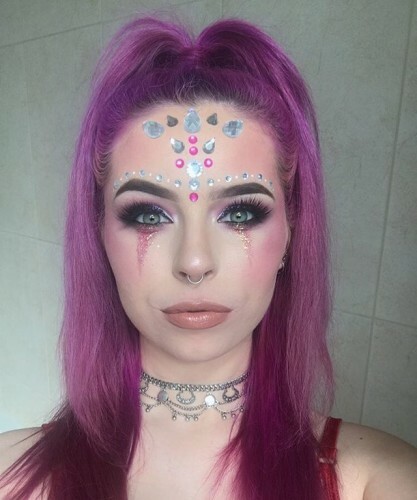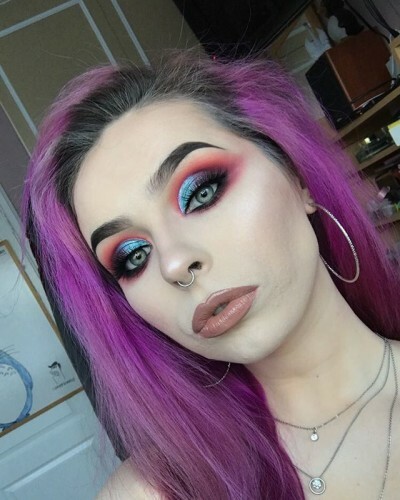 Her earliest makeup memories
"My earliest memory of doing my makeup is probably when I was about 13/14 years old and I couldn't afford the Maybelline Dream Matte Mousse that everyone had, so I went for the Essence version instead!
I would apply it with my fingers and the way it balled up on my hands and face will always stick in my mind.
"I would put on a little bit of black kohl pencil eyeliner and lash on the most mascara that I could. As I got a little bit older, I got rid of that awful foundation and slowly began to grow my collection, mostly figuring out what types of products I liked and what worked best for me.
"For a long time I was terrified to put on too much makeup and bright colours, convincing myself that I wasn't very good at it so it would look silly. Then, as I spent countless hours in my room doing looks, taking photos and taking the makeup off afterwards, my skills grew and I'm super proud of the looks I'm able to create now, even though I know there's still so much more to learn and I'm super excited for it!"
Her makeup bag and what's inside
"Over the past two years or so are when I've really noticed an improvement in my makeup skills and there's been many products which I've tried and hated, but even more that I've tried and absolutely loved!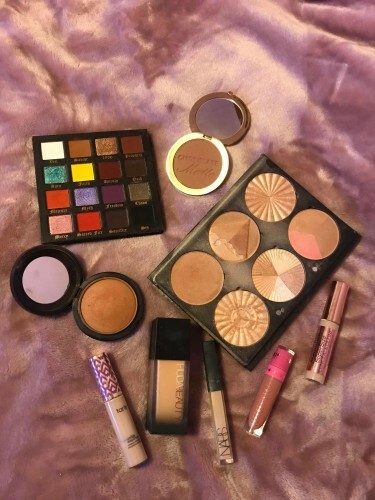 Clockwise from top left: SoSu by SJ x KeilidhMUA Urban Bible palette, Too Faced Chocolate Soleil bronzer, Ofra 'Rodeo Drive' highlighter, Makeup Revolution Conceal and Define concealer, Jeffree Star Cosmetics liquid lipstick in 'Mannequin', Nars Creamy Radiant concealer, Huda Beauty Faux Filter foundation, Tarte Shape Tape concealer and MAC 'Give Me Sun' bronzer.
"Personally, I prefer my foundation to be matte and to add in a glow with highlight afterwards and at the moment I'm loving the Huda Beauty Faux Filter foundation for that exact reason. It lasts all day and night without budging from the oily areas of my face which is incredible.
"Concealer is a huge necessity for me as I don't get as much sleep, as I should like the majority of people. The two I'm obsessed with are Nars Creamy Radiant and Tarte Shape Tape (an AMAZING dupe for this is the Makeup Revolution Conceal & Define! Believe the hype!). Both of these do exactly what I need them to do perfectly.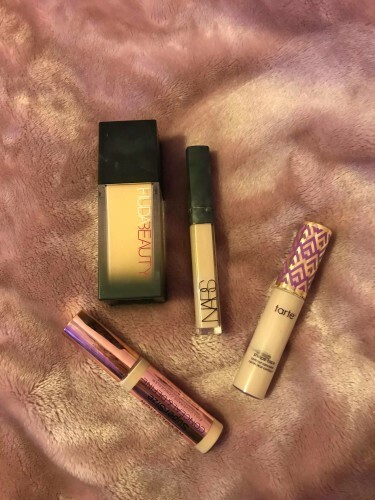 Clockwise from top left: Huda Beauty Faux Filter foundation, Nars Creamy Radiant concealer, Tarte Shape Tape concealer and Makeup Revolution Conceal and Define concealer.
"MAC 'Give Me Sun' and Too Faced Chocolate Soleil are the only products I use for bronzing/contouring because I find they work extremely well for my skin and as I am always very pale they don't look too orange or grey on me which is great.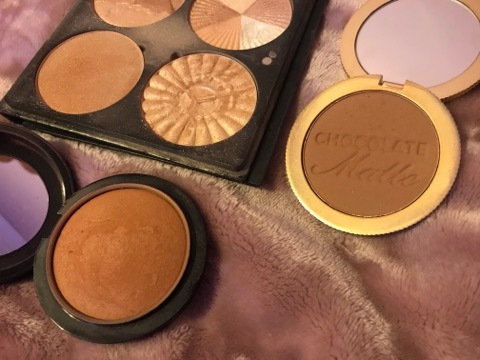 Clockwise from top left: Ofra 'Rodeo Drive' highlighter, Too Face Chocolate Soleil bronzer and MAC 'Give Me Sun' bronzer
"My ride-or-die highlighter is Ofra Rodeo Drive. It is the PERFECT highlighting shade for my pale skin and it lasts super well. I've used some highlighters in the past which have disappeared after a couple of hours and this one will last all day and night! I like my highlight to be seen from space and Ofra delivers on that.
"For the lips, I'm definitely a liquid lipstick gal and it's always Jeffree Star Cosmetics. 'Mannequin' is the perfect nude shade and it's what I wear 90% of the time.
"As far as my eye area goes, I always use the Inglot brow gel because I find I can get the shape I want easily and quickly which is what I'm looking for in a brow product.
"My favourite eyeshadows change up all of the time, I hoard eyeshadow palettes and use them all in a weird sort of rotation. At the moment my favourite is definitely the SoSu x Keilidh Urban Bible palette. I can create so many different looks with this one palette, which I haven't found in the past as a lot of my other palettes focus on one colour palette so it's great that this one can do it all.
SoSu by SJ x KeilidhMUA Urban Bible palette
I'm definitely not the kind of girl who brings my makeup around with me. I either spend three hours doing it at my desk, in which case I don't need to top anything up throughout the day because it's set to the gods, or I'll wear absolutely no makeup at all!
"Overall, I love makeup more than I can ever remember loving any other hobbies of mine and I do feel very lucky that I have the opportunity to develop my skills and to expand my collection.
"Makeup, to me, is an amazing form of both artistic talent and self expression and I am so happy that I have gotten this opportunity to talk about it, because I'll talk about makeup regardless of who I'm talking to. It's just nice to know that people reading are (hopefully) somewhat interested!"
DailyEdge is on Instagram!