A LOS ANGELES coffee shop was forced to issue an apology after they used tip jars on Tuesday encouraging customers to vote for their favourite Paul Walker movie.
American Pie actor Jason Biggs spotted the jars in one of the Coffee Bean's stores and posted a photo to Twitter calling it 'exploitive', considering that the actor was killed in a car crash on Saturday.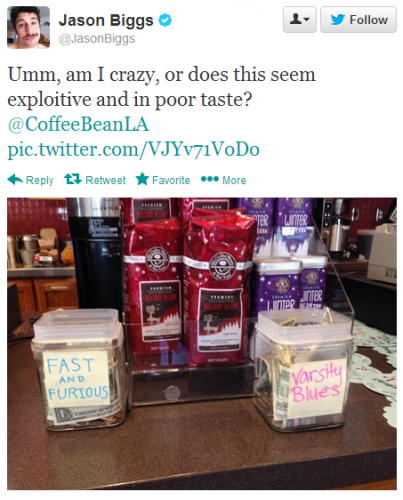 A spokesperson for the US coffee chain told NBC4 that they wouldn't name the particular store the tip jars were held in, but reassured everyone that they were now removed and that the matter is 'under investigation'.
This is completely inconsistent with our brand values and the jars have since been removed. Our thoughts and condolences remain with the many friends and family of Paul Walker during this difficult time. The Coffee Bean & Tea Leaf® would like to thank Jason Biggs for bringing this matter to our attention.