THE AUTOPSY AND toxicology reports on Glee star Cory Monteith who was found dead on Saturday have now been completed.
Monteith, who was 31, was found dead in a room at Vancouver's Fairmont Pacific Rim hotel having returned to his room alone earlier on Friday evening.
The British Columbia Coroner's Service have confirmed that the both autopsy and toxicology reports are complete and results are expected within several days.
Speaking to Canadian news outlet CBC coroner Barbara McLintock noted that while there was no obvious cause of death arising from initial investigations and no foul play suspected there will be a need to see what results come from the test.
Noting the intense public interest in the case McLintock pointed out:
We might try and do some queue jumping to see if we can get them a little earlier, simply because we recognize this is a case with huge amount of public interest.
McLintock also told CBC of the high level of interest from international media and the reaction from fans of the star's work saying she "didn't realise what a big star he had become in the whole world" and that he "really was an A-lister".
While the cause of death has yet to be determined Monteith had struggled with substance abuse problems, including checking himself into a rehab facility in March of this year while in a 2011 interview with Parade magazine he discussed his teenage drug use.
Tributes to Monteith began in earnest when news broke of the passing of the Canadian star this weekend.
Director and choreographer Adam Shankman who worked on Glee and spoke to Monteith the morning before he passed, posted this image of himself on set with Monteith and co-star girlfriend Lea Michelle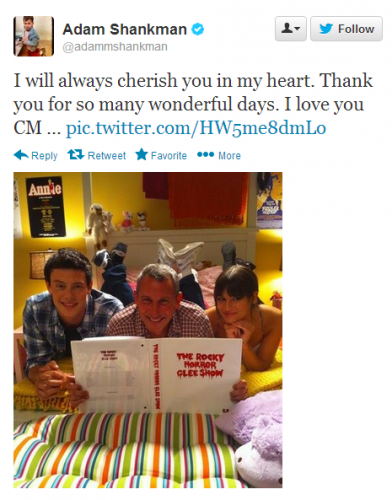 Irish actor Damian McGinty, who appeared on 18 episodes of Glee after winning reality series The Glee Project, shared this memory of Monteith:

While the official Twitter account for the series posted this statement on hearing the news:


High-profile stars reacted with shock to the news: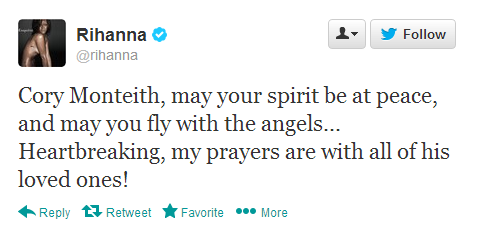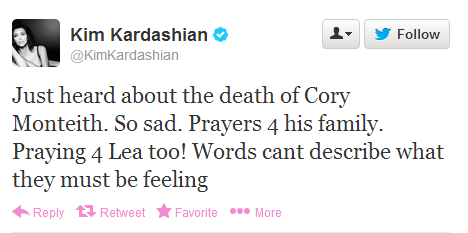 While fans have been paying tribute at vigils: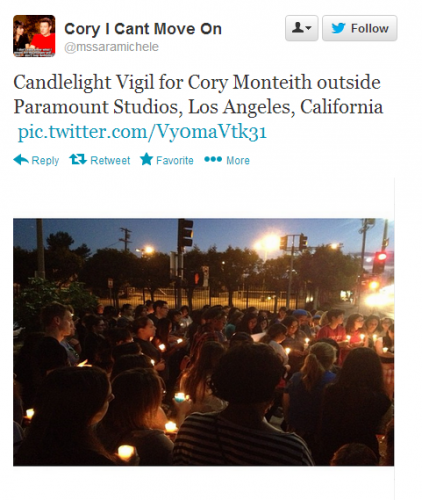 And outside the hotel in which his body was found: