UPDATED 3.45pm
LAST NIGHT, IRISH trad band Lynched announced on their Facebook that they had been dropped from a live RTÉ broadcast happening as part of Culture Night.
Why? Because they wanted to perform one of their own songs.
The band had been scheduled to perform on the RTÉ Stage as part of a live three-hour broadcast of RTÉ Radio 1′s Arena taking place in Dublin's Meeting House Square.
Yesterday, however, the group stated that they would not be performing the gig and would instead be performing in the Irish Traditional Music Archive on Merrion Square.
When asked to elaborate, they posted this comment by way of explanation, stating, amongst other things, that they weren't comfortable with having their "setlist chosen for us by a third party".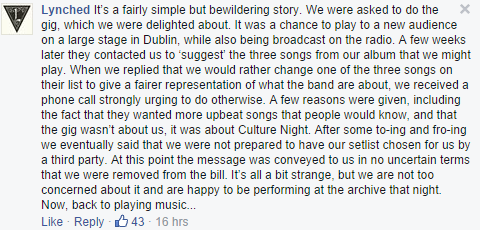 Lynched / Facebook Lynched / Facebook / Facebook
The band had wanted to include the recession-era trad song Cold Old Fire in their set, but RTÉ vetoed its inclusion. According to the band, they were then "removed from the bill".
Here they are performing the song on RTÉ's Two Tube just two weeks ago:
TwoTubeTV / YouTube
In response to the band's claims that they were taken off the bill, RTÉ told DailyEdge.ie that the band themselves had decided to withdraw from the event and not the other way around.
It also stated that it was merely exercising editorial judgement in deciding against the inclusion of Cold As Fire in the band's set list.
RTÉ Radio 1's Arena were delighted to have the opportunity to feature the work of Lynched on air and to include a performance of the song " Cold As Fire"  on 22 May.   With full oversight of the overall Meeting House Square production, the producer decided against its inclusion on this particular occasion.
Exercising editorial judgement on content is standard practice for all RTÉ productions. Subsequently the band itself decided to withdraw from the event. RTÉ regrets this decision which lies beyond its control.
DailyEdge.ie has reached out to Lynched for a response.
Update: Ian from Lynched has responded to RTÉ's comment.
The final mail that I sent to the producer included the following:
"With all due respect to the organisers, yourselves and my bandmates, I am not willing to go ahead and play a setlist that has been chosen for us by a third party. While I understand that this may prove contentious, it is not my wish to cause undue stress. At the same time it is not a matter which I am willing to compromise on. I am however happy to play the setlist that the band chose, which was Henry my Son, Cold Old Fire and Daffodil Mulligan."
As you can see, I stated that I would be happy to play once we were given the freedom to choose the songs which we would play. Following this email, a reply was sent to our agent and copied to us stating that the producer was "very sorry to hear that the band won't be available on Culture Night".