DAD OF THE year goes out to this guy.
Alistair Campbell from New Zealand shaved his head and got a very special tattoo ode to his young daughter, Charlotte.
The six-year-old recently got a new cochlear implant and her dad noticed she was insecure about it. To make her feel better, he got his very own implant tattooed on his head.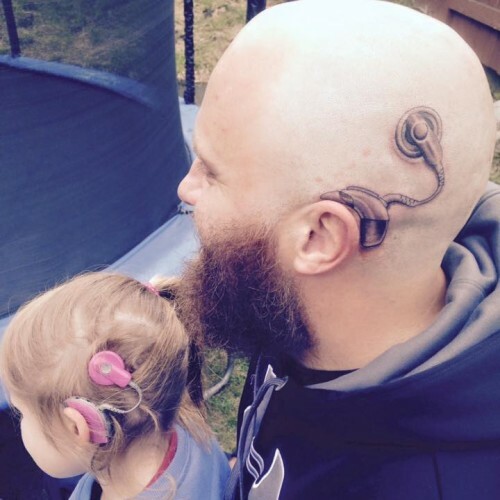 Anita-Alistair Campbell Anita-Alistair Campbell
Charlotte was diagnosed as profoundly deaf in her left ear, and has a condition in her right ear which means sound waves aren't transmitted as usual.
Her family noted a change in her behaviour when she got her first implant at four, even though her mother Anita wears an implant too.
"She wouldn't talk to anybody to pretty much a social butterfly", Anita told the New Zealand Herald.
Alistair has joined in with the family, explaining his gesture was down to…
My love for her really.
He says he'll let his hair grow back, and will shave it for 'special occasions' or if his daughter simply wants to see it.
It's not the first time some lovely parents have tattooed themselves to make sure their kids feel normal. This dad had his daughter's birthmark tattooed on him, while these parents had an insulin pump tattooed on their stomachs to lift their diabetic son's spirits.