DARA Ó BRIAIN has used Twitter to set the record straight over comments he made regarding female comedians on TV.
The Irish comedian and presenter responded to a number of articles which had picked up on an interview he did with the Radio Times.
The Irish Independent tweeted that Ó Briain "says BBC ban on all-male TV panel shows is laughable", to which the comedian replied:
NO, I DIDN'T.
He responded similarly to a headline from The Guardian which read "Dara Ó Briain hits out at BBC ban on men-only panel shows" again tweeting:
No, I didn't.
He went on to clarify that he does not have a problem with a BBC policy of banning male-only panel shows, but that he wouldn't have announced the decision, as it would then be viewed as an edict.
In a response to one tweeter he clarified:
My point is, they get declared "token" by having it appear that they are only there by edict.
In the Radio Times interview Ó Briain was quoted as saying that women who want to go into comedy should be:
…cherished and nurtured, but you're not going to shift the fact that loads more men want to do it.
On Twitter he argued that panel shows like Mock the Week have to "draw on a 90% male talent pool" and that:
Comedian Josie Long also interacted with Ó Briain via Twitter, expressing her frustration at the debate:
Women in tech
The Irish comedian also addressed comments he'd made about women in computer coding, clarifying that his thoughts (as reported in the Radio Times) on wishing that "a tenth of the energy that was put into the women-on-panel-shows debate was put into women in computer coding" were regarding the debate and coverage, not the allocation of resources.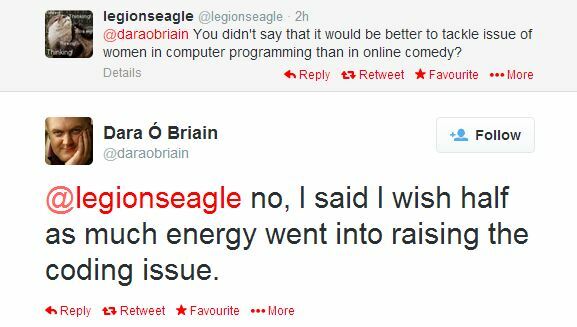 Ó Briain went on to further clarify that "I am pro women in STEM (science, technology, engineering and mathematics) across the board".
The comedian – who was this morning preparing to board a plane to Dublin to host a live version of The Panel in Vicar Street tonight – declined to comment further to TheJournal.ie, saying he was happy to let his tweets speak for themselves.