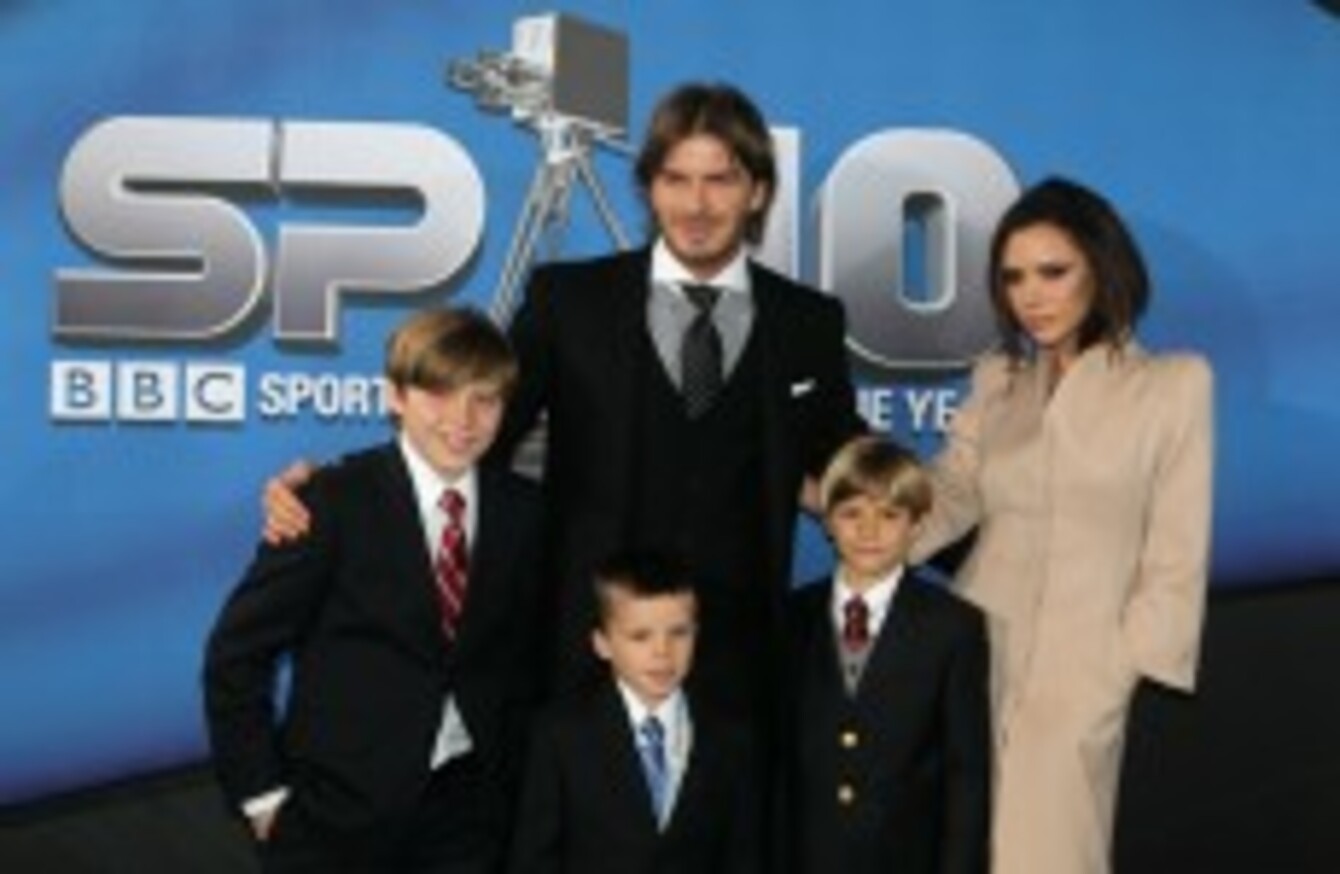 David and Victoria Beckham with sons Brooklyn (11), Cruz (5) and Romeo (8).
Image: David Davies/PA Wire
David and Victoria Beckham with sons Brooklyn (11), Cruz (5) and Romeo (8).
Image: David Davies/PA Wire
DAVID AND VICTORIA Beckham have confirmed that they are expecting a fourth child together.
The couple confirmed the news after David (35) took to Facebook yesterday afternoon, writing that the couple's three boys were "very excited about the arrival of a new brother or sister".
Victoria (36) this morning tweeted her happiness, writing:
Thank u so much for your kind and beautiful messages!!!we are all so happy and very excited!!!!!!x vb x
Mrs Beckham was congratulated on Twitter by fellow Spice Girls Melanie Brown and Emma Bunton, who is herself pregnant.
LA Galaxy midfielder David was beaming as he arrived this morning at the training ground of Tottenham Hotspur, with whom he will be training during the MLS off-season.
It is now thought unlikely that Beckham will complete a temporary loan move allowing him to play for the club, however, as the cost of insuring him against injury has become prohibitive.
The Sun reports that the couple – and boys Brooklyn (11), Romeo (8) and Cruz (5) – are likely to stay in their Hertfordshire mansion, dubbed 'Beckingham Palace', until March, when David is due back in Los Angeles.
It is therefore likely that the couple's fourth child will be born in the US, a first for the couple.
Bookmakers have already opened bizarre books on the child's prospects, with William Hill offering odds on whether the child will be born on the day of the FA Cup final (Saturday, May 14) as well as whether it might play international soccer for the USA (66/1).
Fanciful punters can also bet on whether Beckham IV will play for England (500/1) or whether it will play professionally in the NFL (also 500/1), as well as betting on the day of the week that the child will be born (11/2 each).
Paddy Power, meanwhile, are taking bets on the child's gender – Paddy Power, taking bets on the Beckham baby, considers a girl an odds-on prospect – while, of potential names, Sandra is the 10/1 favourite ahead of Angel, Anthony or David.
More oddball possibilities include Juliet (50/1), Beverly [Hills], Fabio [Capello, England manager], Dolce, Gabbanna (all 100/1), Chelsea and Galaxy (500/1).