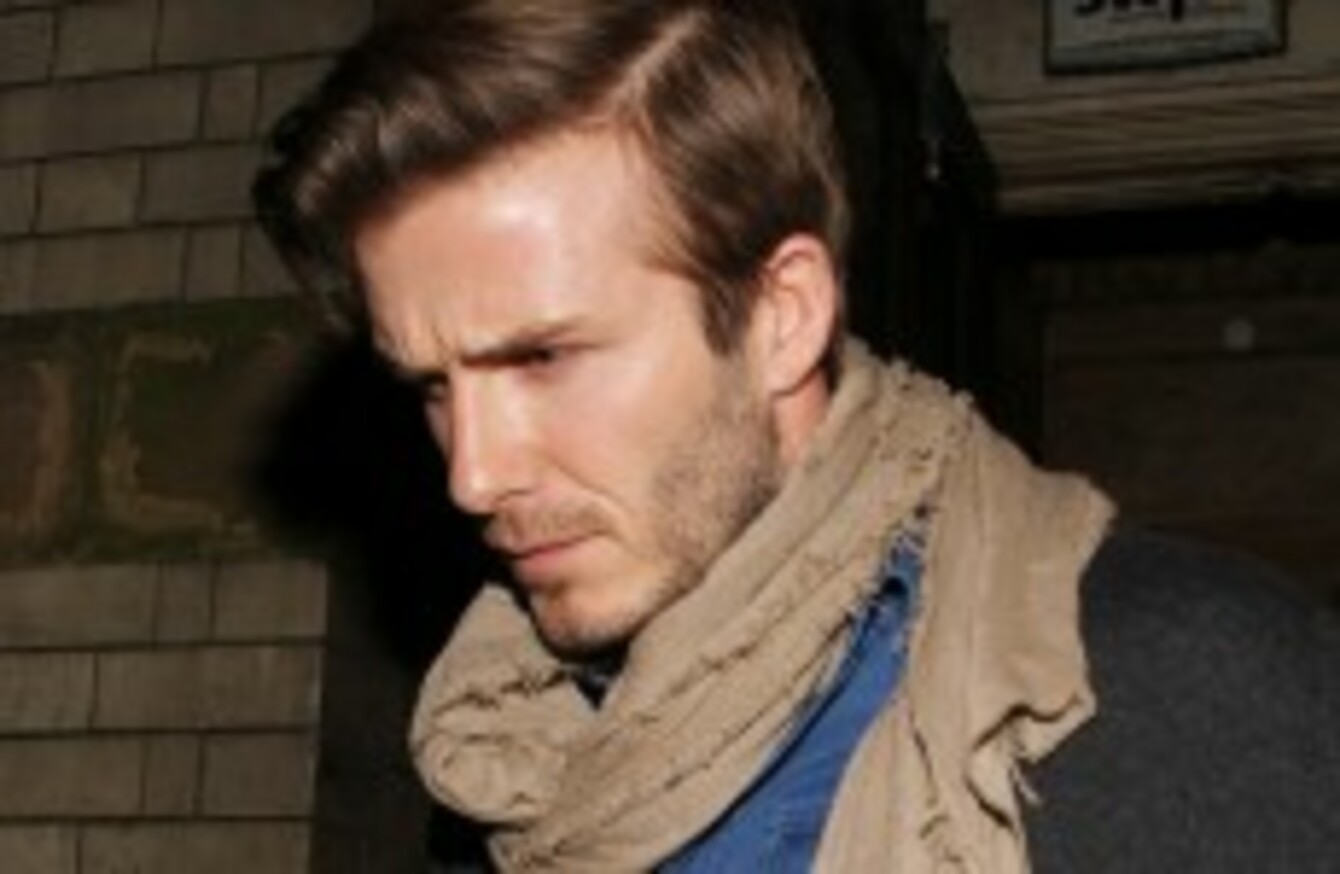 (inside voice): "If I was your boyfriend, boyfriend"
Image: Eamonn and James Clarke/EMPICS Entertainment
(inside voice): "If I was your boyfriend, boyfriend"
Image: Eamonn and James Clarke/EMPICS Entertainment
EVERY WEEKDAY MORNING, DailyEdge.ie rounds up the best of the day's celebrity dirt – from the top to the very bottom.
#BECKS' TRACKS: David Beckham has an absolutely mortifying music collection. For real. He may be all tattoos and sultry underwear ads, but inside his head he's singing "Swag, swag, swag on you / Chillin' by the fire while we eatin' fondue."
How do we know? Because one of his Paris St-Germain teammates poked through his iPod.
"We were expecting some cool English rock bands and hip-hop," Zlatan Ibrahimovic said. "We were looking through his playlist – there was lots of Justin Bieber, Jonas Brothers and Selena Gomez."
Morto for you, David. Morto. (The Sun)
#REESE IN PIECES: You can now watch up-close dashcam footage of Reese Witherspoon getting arrested when her husband was pulled over for suspected drunk driving. And it's mortifying.
"Do you know my name, sir?" she asks the cop. "You're about to find out who I am."

YouTube/TMZ
Elsewhere, Buzzfeed has this excellent roundup of all the excuses she made when talking about the arrest in an interview. Here's a taste:
GIF via Buzzfeed
#ARGH: Former Playboy model Jenny McCarthy has said possibly the most horrifying thing ever uttered by a mother and ex-centrefold.
Asked if her 10-year-old son Evan would be embarrassed by her getting her bits out as he grew up, she said that it's already way past that:
His friends come over and are already ogling… There's gonna be tween boners everywhere this summer.
NOPE NOPE NOPE NOPE NOPE NOPE NOPE. (HuffPo)
"Could everybody just cool it with the tween boners? Thanks, that'd be great." (Matt Sayles/AP/Press Association Images)
#BROWNED OFF: Chris Brown is a ridiculous human being. And here's the latest evidence: when his missus Rihanna followed Drake on Instagram, he threw a strop and unfollowed her on Twitter.
Yep. Unfollowed his own girlfriend, because she followed someone he didn't like.
This is maybe the most embarrassing thing we've ever heard. Someone needs to make a Chris Brown Mean Girl Tumblr right now. (Celebitchy)
This is what our Chris will be missing out on while he sulks. Nice face Riri. (Instagram)
And the rest of the day's dirt…