AS MATTHEW PERRY found out when he was on Good Morning America last week, you can never truly get away from Friends once you've starred in it.
And the same is certainly true for David Schwimmer.
This week, E! reported the sad news that Schwimmer and Zoe Buckman are "taking some time apart"
The released a joint statement to E! saying that the time apart is to help them determine the future of their relationship and that their daughter's happiness is the priority.
Every single Friends fan had one thought though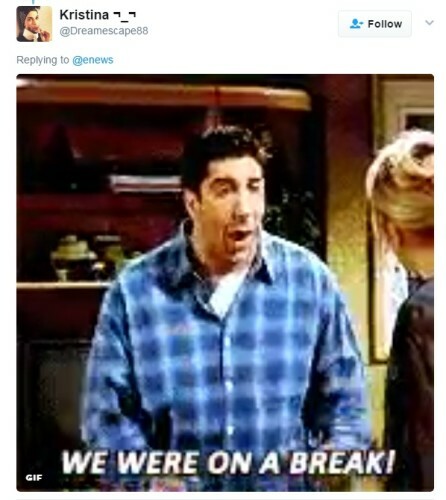 Twitter Twitter
A little much given the situation? Well, it's safe to say Friends fans are wishing him the best through this tough time, and have separated the joke from the real life relationship.
Of course, in the show, the crux of Ross and Rachel's proper break up was whether they were actually "on a break" when he slept with the Xerox girl.
It's basically the character's catchphrase.
So when the "taking some time apart" line was mentioned in the statement, the comparisons were always going to come  - with some of them garnering tens of thousands of retweets
And the Facebook comments followed the same pattern:
THEY'RE ON A BREAK!!
WE WERE ON A BREAK
Maybe they're on a break? Sorry, couldn't resist.
Don't beat yourself up, it was waiting to be said.
Let's hope David and Zoe can work things out, or find happiness in whatever way suits them best.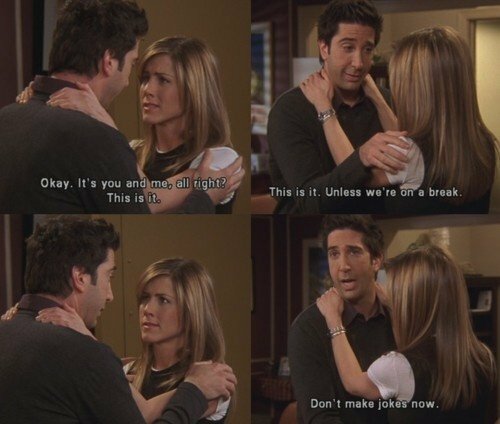 Quora Quora
But no joking about it if they get back together.
DailyEdge is on Snapchat! Tap the button below to add!