PEOPLE, WE ARE almost at the end of Deception.
After last night, there is only one more hour of plotline insanity and Leigh Arnold's amazing face left.
Luckily, the penultimate episode took us to crazy places we've never been before.
(And considering we've been through two people from the same six houses faking their own deaths, that's really saying something.)
Here's how it went down:
1. It's yer wan from Love/Hate!
And she's about to tip coffee everywhere.
Yes, Fiona – Owen's girlfriend, recently returned from London to interrupt his serial cheating – is of course also Georgina, Dano's missus from Love/Hate.
But let's leave that aside for the moment. The episode opens and we can immediately see she's in severe mental distress, because come on – who holds their coffee like that?
Meanwhile the reason for her distress is upstairs in his ship's-cabin-esque bedroom, making out with his school-age girlfriend.
(We already know that they have the worst sex ever.)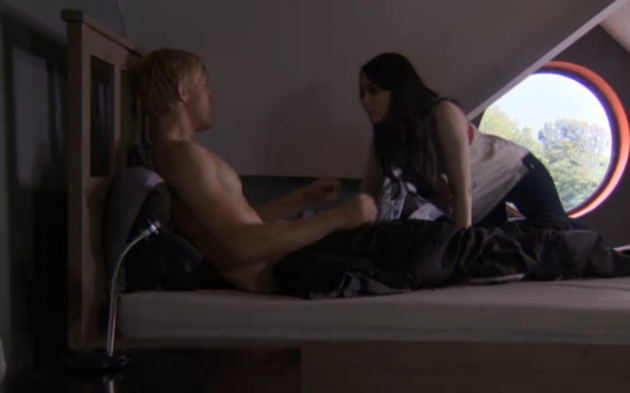 2. The Mystery of the Orange Juice
Owen comes downstairs to torment Fiona a little, and get a bit of orange juice down him.
But why has the orange juice logo been blurred out? WHAT IS THE REAL MYSTERY HERE? We must know.
Maybe there's horse meat in it.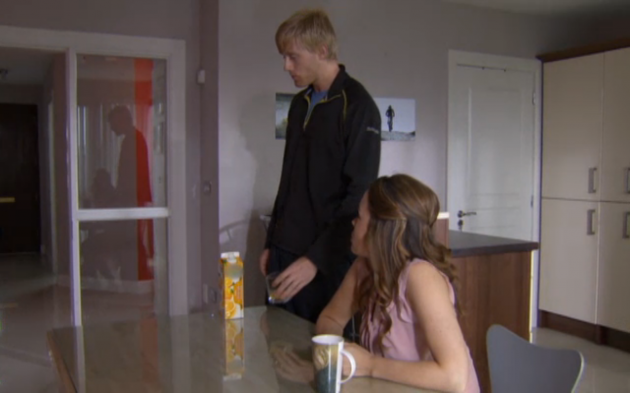 Anyway, Fiona leps up and gives him a mighty smooch. And the orange juice goes EVERYWHERE.
First coffee, now orange juice. Is there anything she won't spill?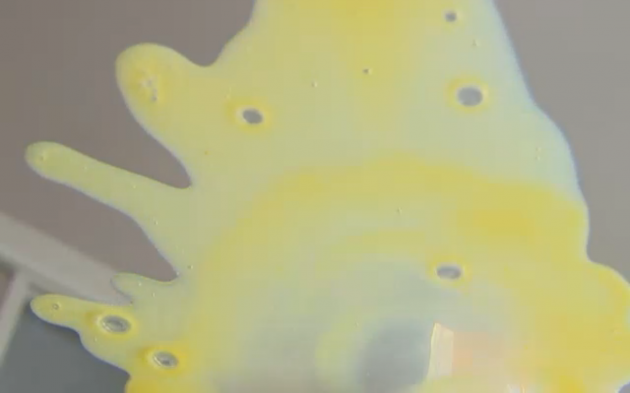 3. Inappropriate things to say to your mother, vol 2
Emma has form in saying inappropriate things to her mother. (I think we all remember "Have you met my mum? She's a lesbian now.")
Anyway, she's still at it.
We had a threesome last night. Maybe you can give me some tips.
Awkward. Especially when your ma is holding up your sexy knickers: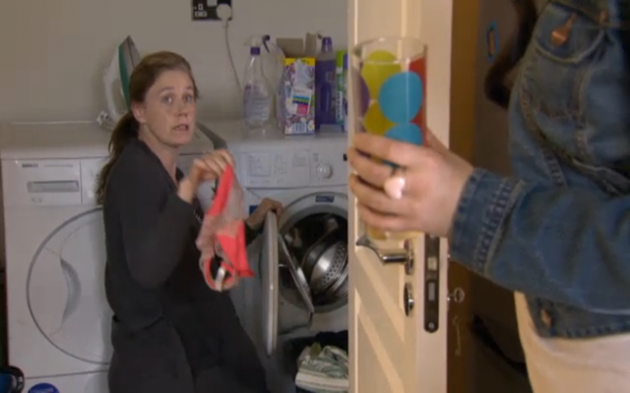 4. Worst sex ever… AGAIN
Owen and Fiona's clinch has progressed to a full-on rompathon, which is happening on the stairs for some reason.
This is represented to viewers with a series of lingering shots of Owen's pumping arse. Frankly I can't unsee it. And now I'm going to inflict it on you too.
ARSE: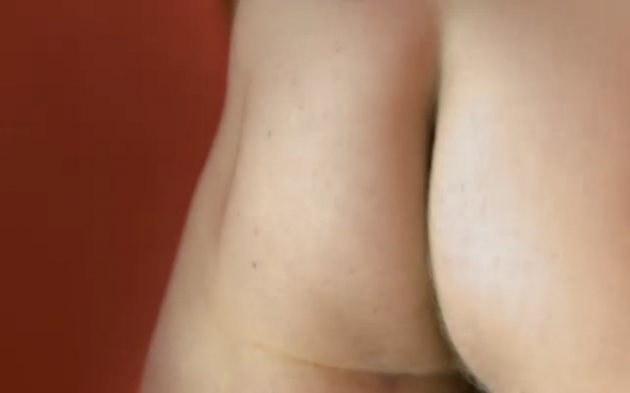 ARSE: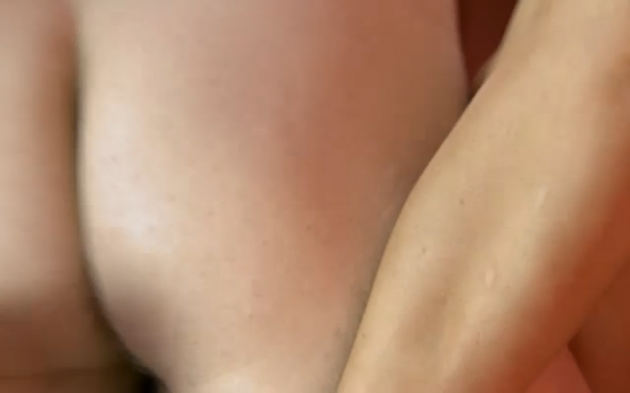 ARSE:
ARSE:
Okay, that's the sex they had. Do you feel kind of dirty, not in a good way? Me too.
5. LEIGH!
We didn't see Leigh Arnold at all in the last episode. We missed you, Leigh!
Come back to us with your overly-expressive face.
Here she is getting kicked out of the gym because her membership expired. The emotion her face is representing is 'Morto'.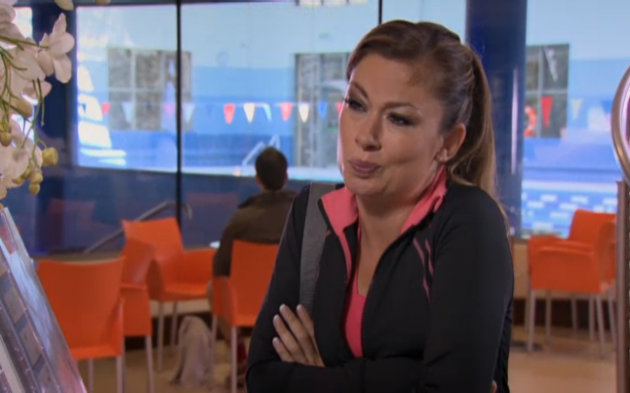 What a pro.
6. WHAT IS HAPPENING?
We see Fiona drinking her coffee (she loves coffee, eh?) and examining a few bruises. You'll get that if you ride on uncarpeted wooden stairs.
Next thing we know, Owen gets a visit from the cops at his gym. They totally arrest him while he's leading a spinning class. A spinning class!
The most undignified arrest of all time.
He's being arrested for the rape of Fiona. A stair-based encounter, you'll recall, that we saw her initiate. This isn't good for him.
Another thing that isn't good for him is that while searching for a lawyer, he calls Michael to ask if he "knows anyone through college".
Michael, you may recall, started college about a week ago and is studying accountancy.
7. It's metaphor time!
After a trip to the garda station, we see Owen in the shower scrubbing at the ink from his fingerprinting, which WILL NOT COME OFF.
Could you say that this represents his guilt over his treatment of women? Could you say that the real stain is… on his SOUL?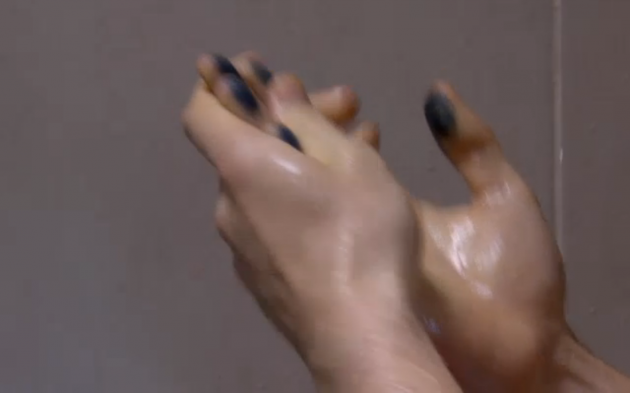 Yes, you could. The Deception writers LOVE a metaphor. We hereby christen these moments "metaphorgasms".
8. The orange juice mystery deepens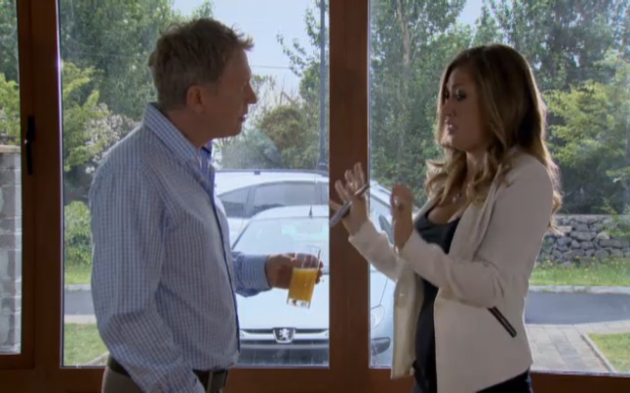 Why is Jack drinking orange juice in this conversation with Leigh? Why is he gesturing with it so dramatically? Is it some kind of symbol? WHAT BRAND OF ORANGE JUICE IS IT?
New theory: This series is actually all about orange juice.
9. Metaphorgasm! (Vol 2)
Owen's moved in with his dad Jack, who is living in a half-finished gaff on his half-built ghost estate. Here he is in his bedroom.
Could you say that it looks like a jail cell? Could you say that in reality, he's already in a symbolic prison of his own making? Could you say that the real prison is… HIMSELF?
Yes.
Yes, you could.
10. The world's tiniest violin
Former rugby ace Jack is selling off his old Ireland shirts on eBay to fund Owen's legal defence.
Aww. It leads to a passionate smooch with Leigh/Catriona, which is interesting, as it wasn't too long ago she was beating his prone body with her little fists after he faked his own death.
Galway people, eh?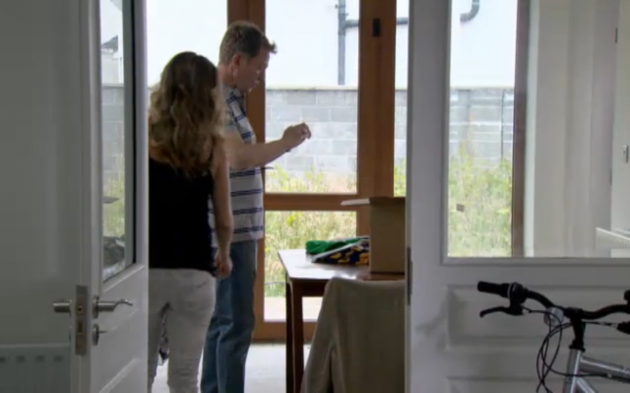 His shirt sell-off may actually be no bad thing, as one of the next things we see is him leading rugby training with a bunch of little kids.
It's the most half-hearted rugby training ever. They're literally just gambolling about like newborn lambs on wobbly legs.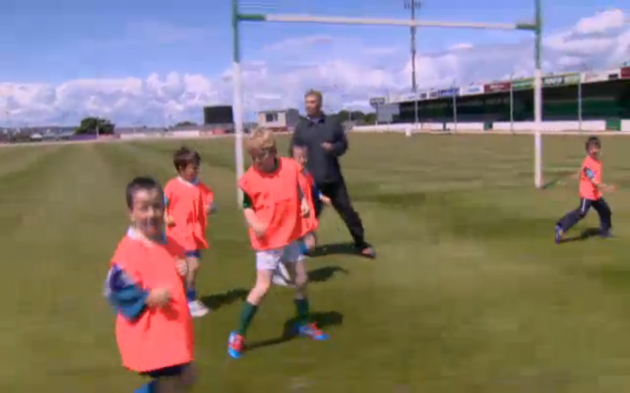 11. Bra fitting à la Fiona
Fiona goes shopping for some sexy undies, as you do when you've made a false rape allegation.
OK, full disclosure: I am not a lady. But is this really how people try on bras? Really? Unless you're six and the bra belongs to your mammy?
12. Fiona drops the bomb
Possibly wearing her new floral bra, Fiona arranges to meet Owen in a nearby wood. It's, um, an awkward encounter.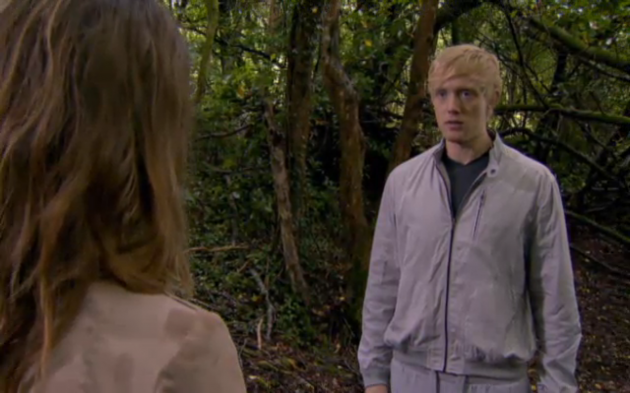 "So, been up to much yourself?"
Until Fiona breaks the ice by suggesting that if Owen marries her, she'll drop the rape charge.
This is Owen's reaction: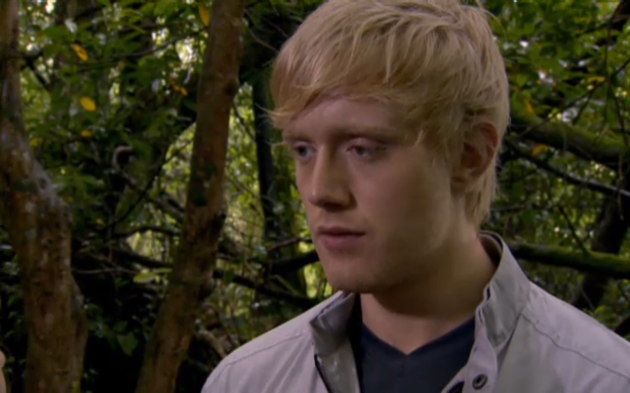 He's no Leigh Arnold, that's for sure.
Anyway, he storms off, leaving Fiona to stare longingly at a tree: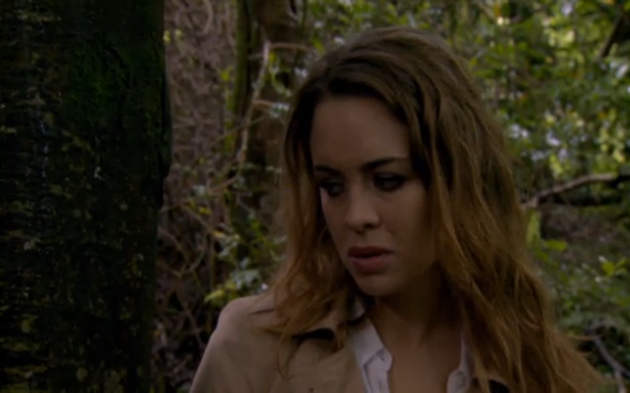 And then beat her head against it: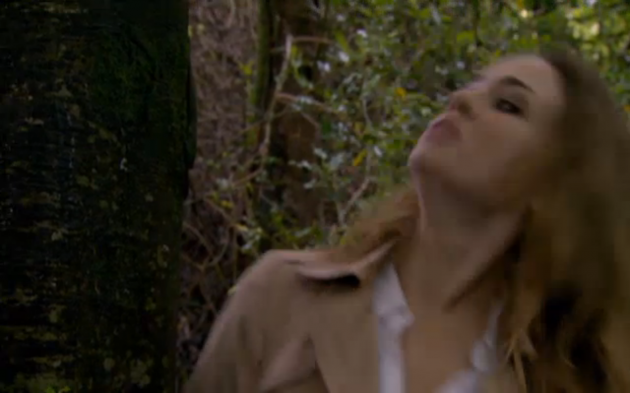 She's, um, a bit of a live wire.
13. Worst. Wedding. Ever.
After a little cursory blackmail, Owen and Fiona tie the knot and she drops the charges.
It's a blissfully happy union from the very beginning: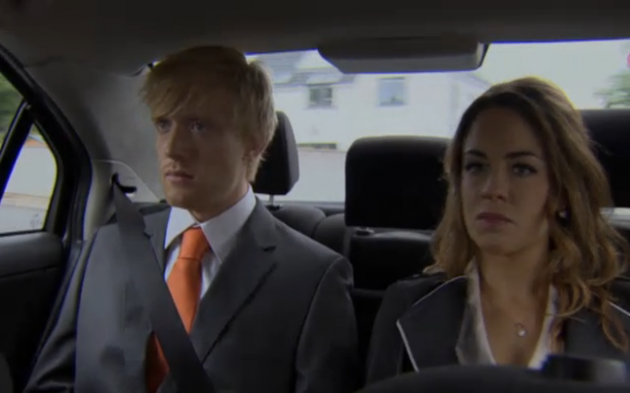 Then they enjoy a nice relaxed dinner: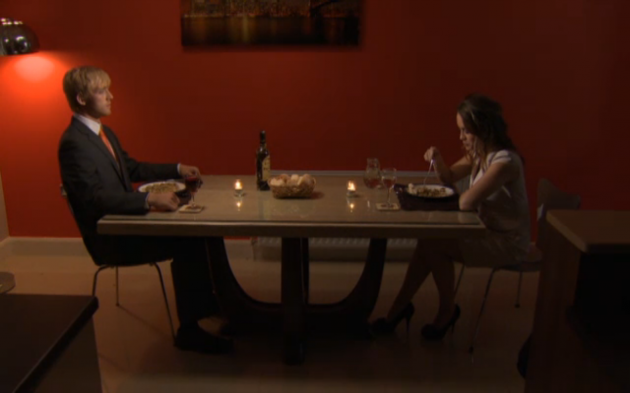 Then she reveals she's been pregnant all along: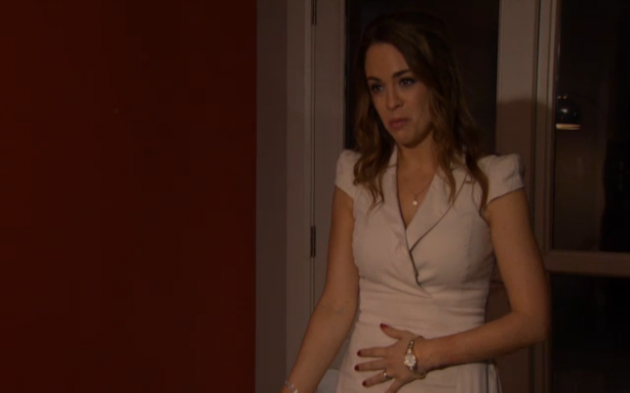 WHAT THE?
14. Owen's First Emotion
The baby news causes Owen to do something he's never done before: express an emotion with his face.
Check this bad boy out. I call it "My ex-girlfriend, who is now my wife after blackmailing me with a rape charge and beating her head off a tree, has a person growing inside her":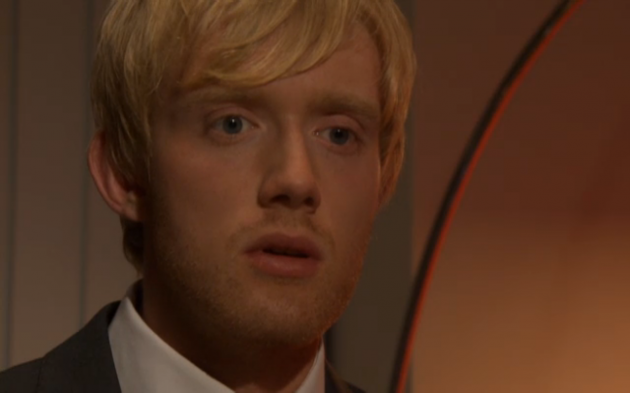 Masterful.
Fiona, however, only makes this face:
BURN.
Will Owen and Fiona make up? Are there more emotions in his future? Would hanging around with Leigh Arnold help at all?* Join us next week for the final episode.
* Also, can we hang out with Leigh Arnold?