DOMHNALL GLEESON IS proving to be one of the finest actors our little island will ever produce. You can't argue that he doesn't have range.
Over the weekend, he attended the LA premiere of his latest film, Peter Rabbit.
PA Images PA Images
BLASPHEMY, you say.
We'll be honest, the idea of a CGI film about Peter Rabbit played by James Corden is truly the stuff of nightmares.
In fact, people don't seem to be impressed at all.
The reviews haven't exactly been kind, either The Hollywood Reporter described the rabbit as more "manic and less charming than Paddington Bear but decidedly not as annoying as Alvin and his fellow chipmunks".
Variety voiced all of our concerns when they said:
Beatrix Potter fans will be torn between wanting to hug a photo-real Peter Rabbit and wanting to scream at what Hollywood has done with him.
Uh oh.
However, it seems Domhnall has become the movie's saving grace.
Mainly because people want to see him get attacked by CGI bunnies.
Domhnall plays Mr McGregor, who is out to kill Peter Rabbit and his animal friends. But of course, Peter terrorises him instead. The good guy wins.
YouTube YouTube
People are HERE, FOR, IT
Who needs to bring a child?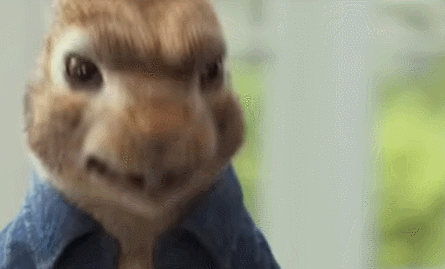 You can't fault his range
DailyEdge is on Instagram!