Image: Discovery Channel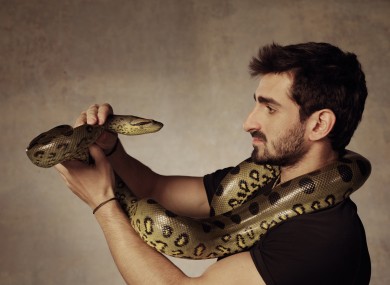 Image: Discovery Channel
THE PREMISE FOR the Discovery Channel's show Eaten Alive, is simple.
They're putting a man in a snake-proof suit, and then feeding him to an anaconda so they can have a look in its belly.
Oh.
Who is the volunteer? 30-year-old Paul Rosolie is a naturalist and wildlife filmmaker, and he's willing to be eaten and regurgitated by a snake for the sake of some good TV.
Eaten Alive will air on the Discovery Channel in early December, according to their website. The channel have been suspiciously low on detail, refusing to elaborate on the technicalities of the stunt. Promotional videos have also been removed from YouTube, causing speculation that the channel may cave under pressure from animal rights groups, disputing the ethics of the show. A Change.org petition is already hoping to stop the show from airing.
However, writing on his Facebook page, Paul said it was a simple graphic change that was needed:
They needed to change the air time from 8pm to 9pm so they pulled the vids to edit them. NOthing else has changed. We are all good!
Concerns about the safety of the snake have not been acknowledged by Discovery as of yet, but Paul is adamant that all is in order.
Source: Pablo Olvera/YouTube
Rosolie is known for his conservation projects in South America, and works a lot with anacondas in the Amazon. He wrote a book about the rainforest called Mother of God, which received praise from Bear Grylls and Jane Goodall.
While snake proof suits that are bite proof already exist, it's not known if a suit could be possible of withstanding the pressure of the crush–with fears that the under-threat snake might be at risk if something goes wrong. Green anacondas are found in the Amazon, and can grow up to 29ft and weigh 550lbs. They live in or near water and grow so big by eating prey such as deer, tapirs, crocodiles, and jaguars whole–all thanks to their stretchy jaws.
Needless to say, this one is going under 'bad ideas'.
We would have went with a GoPro.