ED SHEERAN IS not afraid to talk about getting the ride.
Not only is he happy to talk about it in interviews, but it's inspired some of his biggest hits.
You see, Ed Sheeran has had sex. Lots of it. And he wants us all to know about it.
Ed showed that he wasn't afraid to get sexy when he sang an acoustic cover of Ginuwine's Pony. You know? The one that's like, "If you're horny, let's do it/Ride it, my pony"
If you're hawwwwny, let's do it…
ThisIsRnB / YouTube
On a November 2012 episode of Never Mind The Buzzcocks, Ed  spoke about being able to have sex twice in one night before falling asleep.
I usually pass out around the second time.
The rest of the panel poked fun at his lack of stamina, but Ed held firm. He also made an erection gesture with his arm.
TinTheDark / YouTube
In 2014, he wrote a song called Don't, rumoured to be about his brief relationship with fellow singer Ellie Goulding.
In the song, he talks about being "between the sheets 'til the late AM".
Ooh, you drink and you have sex? What a ledge.

azlyrics azlyrics
Meanwhile, this lyric from Thinking Out Loud is… suggestive.

AZLyrics AZLyrics
In May 2015, Ed Sheeran upped the ante and got awfully candid about his sex life in an interview with The Breakfast Club, a hip-hop radio show.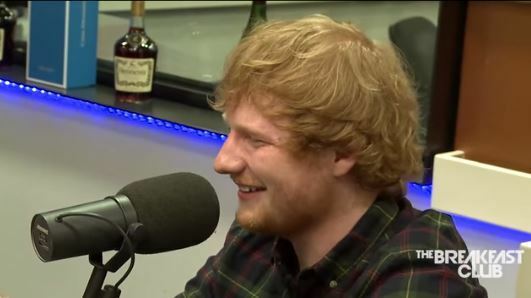 Among other things, he revealed that he does go down on female lovers, but doesn't "do the sucking the farts out". This led to a conversation about "booty eating".
When asked if he had ever "smashed" Taylor Swift, he said no.
Too tall.
He also stated that he uses condoms (good!) because he doesn't want to end up impregnating loads of women. Because he has so much sex, you see.
I don't want to end up with sixteen kids from different mothers.

TMZ TMZ
A short while later, he took credit for ginger men "getting laid"
Someone's been watching too many American films.
There are a lot of ginger dudes in England who are using me. That's why I'm not hating on it. You know what, we're finally getting laid! This is a good thing.

Telegraph Telegraph
This year, he released Shape of You, a song that's all about doing the nasty.
It contains references to smells, bodies and bedsheets. Imagine Ed Sheeran whispering, "Put that body on me," in the dead of night.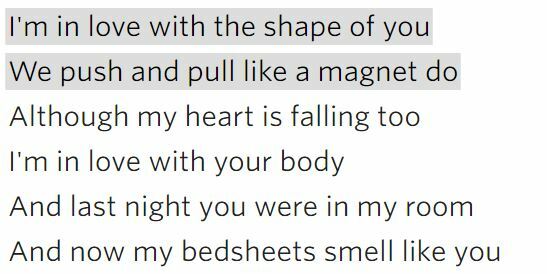 Genius Genius
In a Rolling Stone interview, Ed Sheeran copped to sleeping with members of Taylor Swift's girl squad.

Cosmopolitan Cosmopolitan
Offstage, this was his most romantically prolific period. He says he hooked up with some of Swift's famous friends. "Taylor's world is celebrity," says Sheeran. "I was this 22-year-old awkward British kid going on tour with the biggest artist in America, who has all these famous mates. It was very easy. … I would often find myself in situations just kind of waking up and looking over and being like, 'How the f**k did that happen?' "
Bragging about having sex with famous women? You're too famous for that, Ed. Save it for your WhatsApp group. Or a cryptic song on your next album.
DailyEdge is on Snapchat! Tap the button below to add!