EACH WEEK, WE'LL be taking a peek into some of our faves' makeup bags to see their must-have products, because we're nosy. This week, it's the turn of makeup artist Edwina McGrath. You can follow her on Instagram by clicking here.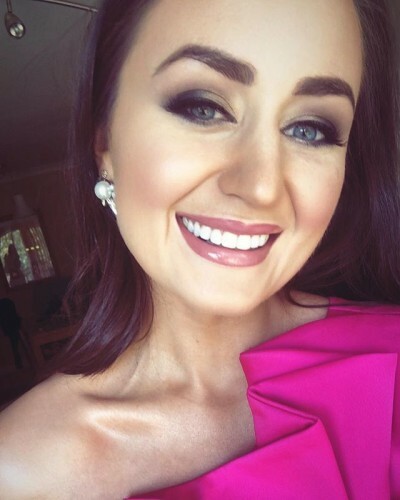 Her earliest makeup memories
"I found my way into my Mum's make up bag from a very early age. I would try everything but I remember absolutely loving lipstick.
I remember buying my first Miss Sporty blue eyeshadow and mascara.
"At the age of 16, I was gifted a makeup lesson by my mum. Looking back, that lesson really influenced my outlook on make up and the beauty industry. I was fascinated by all the different products and it influenced the glam that I gravitate towards today. I now offer teenage make up and skincare lessons in my salon because of the sheer joy it brought to me.
"Previously, I worked as a marketing executive and made the difficult decision to change careers. I realised an office environment was not a place I wanted to be long term and was daunted by the fact that I had many working years ahead of me.
"At 27, I'm now a Beauty Tutor and Therapist. I've recently opened my own business after getting essential experience in some of the best businesses in the industry."
Her makeup bag and what's inside
"The bag I always travel with and use everyday is the famous LUNA bag. Anyone that has one will know how handy it is. I am back and forth to Tipperary a lot so it is definitely a must have item and keeps everything in place.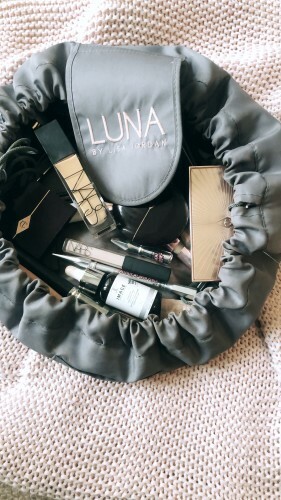 "Every morning I prepare my skin with a regime of cleanser and serum.  The serum locks in moisture as it has a high level of hyaluronic acid. After this, I apply Image Prevention Daily Matte Moisturizer SPF 32. This is a must have!  It is not greasy under make up as it contains a high quality zinc oxide. This guards the skin again both UVA (aging) and UVB (burning) rays. It's a dream! 
L-R: Image Prevention Daily Matte Moisturizer SPF 32, Charlotte Tilbury Flawless Filter and Image Care for Skin Foundation.
"Before applying eye makeup, I start with my skin and apply a product that will achieve a youthful glow. I have a particular interest in skin and I feel my makeup is gravitating towards a more radiant minimal look everyday. Charlotte Tilbury Hollywood Flawless Filter was one of my favourite products to hit the market in 2018. There are seven shades, I wear shade '3′. I apply a stroke to my forehead, cheeks, nose and chin before my foundation. It gives a radiant healthy complexion and you can also mix it with your foundation if you prefer.
"This product is a newbie to my bag and make up kit. It's the NARS Longwear Luminous Foundation in shade 'Barcelona'. I am an avid SoSu Dripping Gold Tan wearer so this shade works very well with it. The formula is weightless, highly pigmented but perfectly balanced.
L-R: NARS Natural Radiant Longwear foundation, NARS Creamy Concealer and Benefit Precisely My Brown pencil
"I could not write this article without mentioning brows. I tint my brows every two weeks in my salon but on a daily basis I fill them in with Benefit Precisely My Brow pencil in shade '4′. towards the center to define them and use the Sophisticated Eye Palette from Charolette Tilbury towards the edges. I find the shadow quicker when your running out the door to work and I wouldn't leave the house without my brows!
"Finally it's all about the lips. Anyone who follows my Instagram page will know how much I love the Ormedic Lip Balm from Image Skincare. I have one in work and at home and use it throughout the day. It is super hydrating and plumps lips to create a fuller look."
DailyEdge is on Instagram!