THE FESTIVAL SEASON is underway and one of Ireland's biggest is gearing up for a big birthday.
Electric Picnic is celebrating ten years on the go this year and to mark the occassion have released this new promo video.
It's certainly very slick and even made one Twitter user think of high-end perfume ads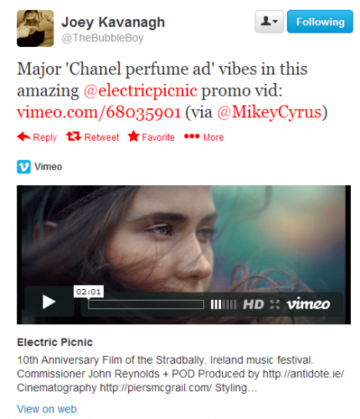 The video definitely looks amazing but we do feel that it's a bit glossier than our own experiences at the festival.
Where are the people peeing on tents?
The person wandering around the same square patch of the site for two hours because they've lost their phone signal?
The 35-min queue for the falafel stand that you're only in because your best mate insists they taste better than burgers?
Still, it's hard to argue with a bit of Orbital and a breathy voice over telling us to "live with your heart".


William Armstrong / Vimeo