UPDATED Thursday 9.20am
YESTERDAY WE BROUGHT you the news that a house phone from Carlow had accidentally been posted to Australia in a box of birthday goodies, causing all kinds of consternation back home in Borris.
You can catch up on the whole tale below, but we have some updates for you this morning:
1. The remote control was NOT sent in the second birthday package, as feared. It still hasn't turned up, but the second parcel has arrived in Oz, and contains no remote:
2. Figerty the dog was originally blamed for the disappearance of the phone, but has since been exonerated. He may still know something about the remote control. We now have a photo of Figerty:
His name is an offshoot of "fidgety", apparently #JusticeForFigerty
If you missed any of the story from yesterday, here it is…
SINEAD FROM BORRIS in Co. Carlow is getting ready to celebrate her birthday and St. Patrick's Day in Australia.
Her family have prepared a couple of packages to remind her a little of home.
However, they went a little overboard… by packing the home phone in with some chocolate and soup.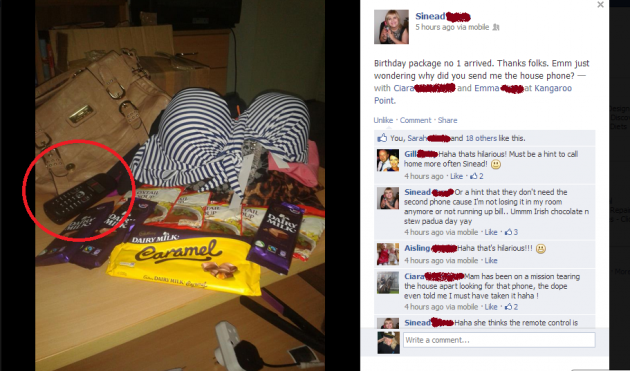 Our favourite thing about this story has been the fallout back at home:
Mam has been on a mission tearing the house apart looking for that phone.
While Sinead has told DailyEdge.ie that she's going to be posting it back because:
The other phone in the house only rings three times and then it stops.
And according to Sinead's sister Ciara…
We can never get to it on time. You may post that one back.
And if that's not enough, Sinead has even been taking messages for her family in Carlow, all the way over in Oz:
Emma (another sister) won a Moses basket from a random furniture shop in Carlow. They could only contact me here in Oz.
And wait, it gets better…
The remote control is also missing. We think it might be in the other parcel. It hasn't arrived yet.
Figerty the dog had been blamed for hiding the items until now.
Vindication Figerty. Vindication.