EACH WEEK, WE'LL be taking a peek into some of our faves' makeup bags to see their must-have products, because we're nosey. This week, it's the turn of makeup artist and beauty influencer Emily Rochford. You can follow her on Instagram here.
Emily Rochford / Instagram Emily Rochford / Instagram / Instagram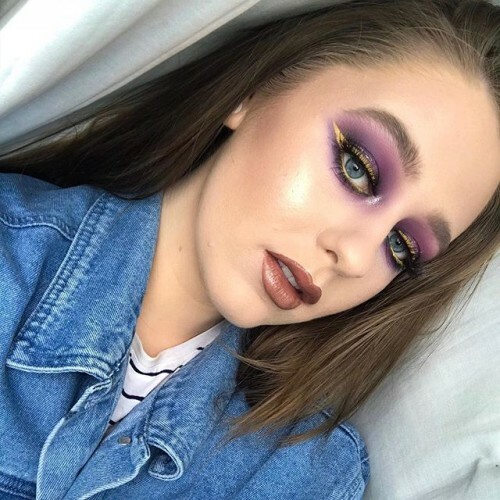 Emily Rochford / Instagram Emily Rochford / Instagram / Instagram
Emily Rochford / Instagram Emily Rochford / Instagram / Instagram
Her earliest makeup memories
My earliest make up memories would definitely be when I was around six years old, I stole my mams favourite lipstick and mascara & attempted to put it on to look just like her! (I most defintely poked myself in my eye with the mascara wand a few times!)
As I got older, I really got into it when I was around 14. Before myself & my friends would go to our teenage discos, I would do everyones make up.
Back then it was black eyes (we looked like pandas but we thought we were gorge) and a classic red lip!
"Since then my love for make up as grown, my fave go-to glam look would be a smokey eye & red lip! For an everyday look, I would go with soft browns & a glossy lip and I'm good to go!"
Her makeup bag and what's inside
"My essential foundation at the moment is the All Hours Foundation Stick by YSL. The foundation is oil free so it will help any girls out there who's skin gets super oily. (She's a newbie to my make up bag but I will be definitely keeping her.)
"My essential concealer is definitely the Camouflage + Healthy Glow by Essence. It's such a beautiful creamy consistency along with being waterproof & very affordable!
"My favorite go-to mascara at the moment is also by Essence. It's the Lash Princess mascara, this mascara makes my lashes so long without getting my lashes clumpy looking! Definitely one of my faves & very good pricing at €3.30!
"One of my go-to brow products would Lancôme's Brow Shaping Pencil. I like a natural brow most days so this pencil is perfect as it's a very buildable product, so you can transform your brows from a natural light day time brow to full brows with just one product!
"My essential eyeshadow palette that I bring everywhere with me is my Urban Decay Beached eyeshadow palette. This palette ticks every box as it has nice neutral colors along with nice bright pigments too, so you get the best of both worlds!
"My essential contour palette is the Cream Contour Palette by Anastasia Beverly Hills. It's a beautiful creamy consistency that blends out so beautifully on the skin!
"For my lips I usually use my Lancôme L'absolu Lip Lacquer glosses! I usually wear them on their own as they are very pigmented but they do come in so many shades so you can really find your perfect gloss to match your fave lipstick!
"Then. to finish it all off. I use my go to setting spray which is the Urban Decay All Nighter! This keeps my make up on all day & also makes skin look smoother & vibrant! I've been buying this product years!"
DailyEdge is on Instagram!