LAST NIGHT, THE BET Hip Hop Awards took place in Florida.
But there's only one appearance that everyone is talking about: Eminem's freestyle diss track against President Donald Trump called The Storm that was aired on the night.
He didn't hold back one bit:
BETNetworks / YouTube
Citing the President's stance on immigration, the military and the recent controversy about NFL players' right to peacefully protest, Eminem had a message for his fans:
And any fan of mine who's a supporter of his, I'm drawing in the sand a line. You're either for or against, and if you can't decide who you like more and you're split on who you should stand beside, I'll do it for it for you with this. Fuck you.
As you'd expect there have been so many good one-liners on the side of the main course:
1. Eminem is now President guys
2. Trump might have to take a long, hard look at how he got here
3. We might want to rein in the hyperbole though
BET BET
4. There are lawyers consulting the constitution as we speak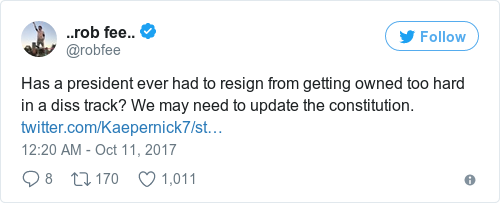 @robfee @robfee
5. Where would we be without LeBron James to explain the lyrics to us?
You can read the lyrics in full here.
6. No word from Trump yet
7. But just for a second imagine the response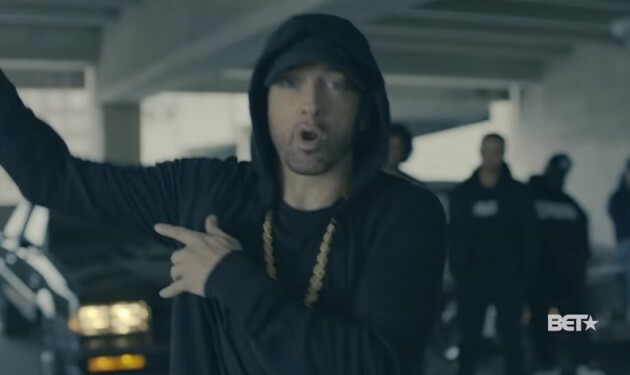 BET BET
8. This is absolutely 100% true
9. Lin-Manuel Miranda would be proud
10. Some of the rhymes are getting their own rounds of applause
11. Pence is on his way, while putting on a cap backwards
Word.
12. Who can come in and fix this diplomatic mess?
13. Thinkpieces incomiiiing
BET BET
14. It's already moving up the iconic takedown charts

@Bakari_Sellers @Bakari_Sellers
15. Meanwhile, in the Oval Office
16. Today's press conference should be interesting

@morninggloria @morninggloria
17. Here's the leaked itinerary for the day that's in it
Brace for impact.
DailyEdge is on Instagram!