KIMYE HAVE TAKEN on Ireland, and so far, they're winning. There have been a total of ZERO photos to emerge from their visit and nobody can accept that.
We mean, c'mon. Even a blurry shot through a tinted car window would do at this stage. The world's media have been clutching straws, even getting sucked in by some jokers photoshopping the couple outside Cork pubs or giving details of their shop in Aldi.
UK magazine Grazia Daily were fooled, publishing this photoshopped photo, saying that the couple were "spotted wandering round the town entourage-free."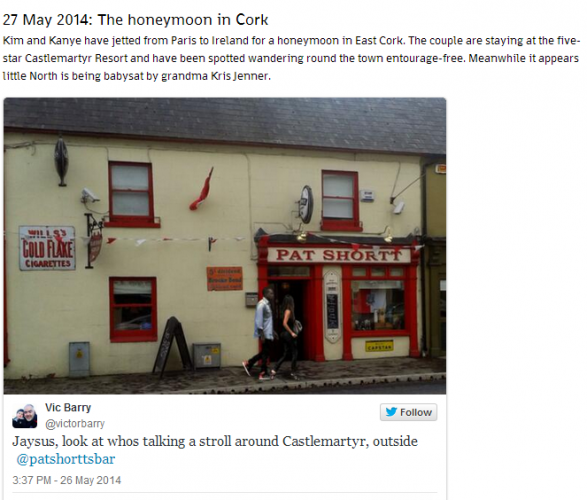 Also Company Magazine have been tracking the wedding through Instagram photos, and used the same snap. Awkward.
Kimye have now jetted to Ireland for a honeymoon in Cork and have been spotted hanging around town totally entourage-free. Thanks at Vic Barry for what looks like a candid shot of the newly weds…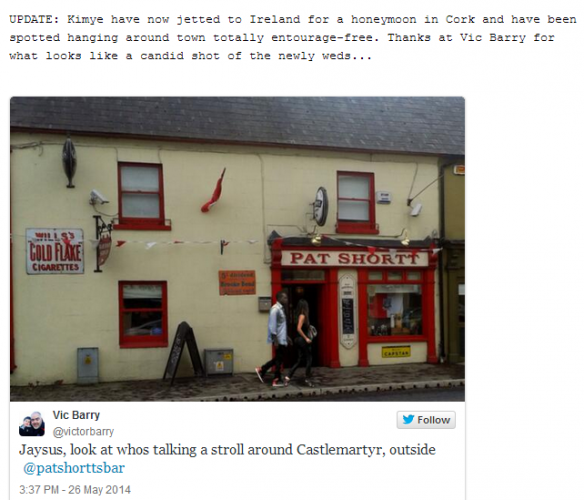 They weren't the only ones duped, but others didn't quite make it to publication.
Not forgetting the poor E News intern in the states who went viral in Ireland last night after replying to seemingly EVERY ridiculous sighting jokers put on Twitter.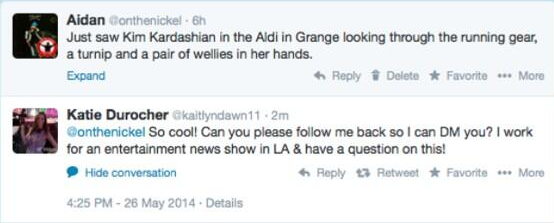 She was only making sure though, seriously.