FINALLY. A WAY to get rid of that bag of turf you had lying around.
For one night only, the Fox's Den pub in Ballymote are offering punters the opportunity to trade in their hard-earned bags of turf for a delicious pint.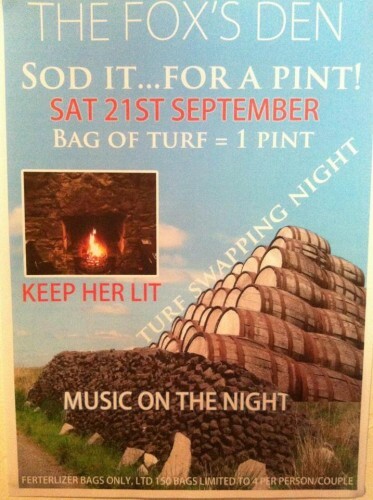 Facebook / The Fox's Den Facebook / The Fox's Den / The Fox's Den
The pub's 'turf swapping' night takes place next Saturday, and is bound to be an unforgettable night of merriment and decayed vegetation.
The following message was posted to their Facebook page, t&c's clearly apply.
Join us Saturday September 21st for a night with a difference. Turf Swapping night. Swap a bag of Turf for a Pint. Limited to 4 bags per person per Couple. Maximum of 150 Bags on the Night. Fertilizer Bags only.
Turf swapping? That's gas.
H/T to Francie Boylan