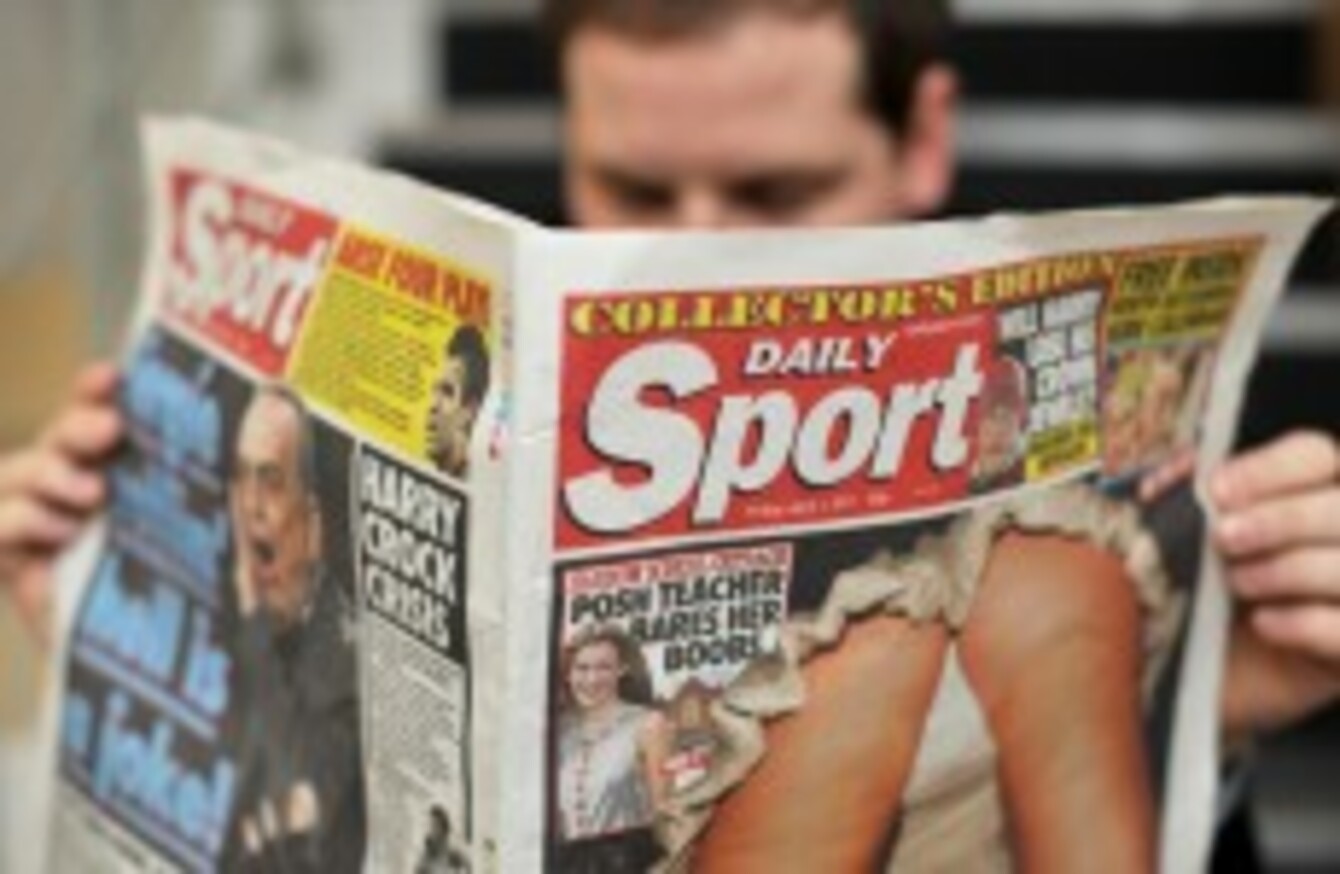 Image: Nick Ansell/PA Wire
Image: Nick Ansell/PA Wire
THE PUBLISHER OF the famously smutty Daily Sport and Sunday Sport newspapers has entered administration and ceased trading immediately – marking the end of the newspapers' 25-year history.
The titles – best known for their gratuitous inclusion of barely-clad women beside stories with almost parodical headlines – had been a staple of the British newspaper scene since the launch of the Sunday Sport in 1986.
Its success had led to the creation of the Daily Sport spinoff in 1991.
In a statement to the London Stock Exchange this evening, Sport Media Group – whose shares had been suspended early this morning following a significant early-trading decline – said it had been forced to stop trading due to its high volume of debts.
In particular, the group said the poor weather conditions of December – which had stopped it from being able to distribute its titles to many stores – had led to "pressure on the Company's working capital position".
The recovery from that hit to its business meant the company could no longer be considered a viable prospect, given the end of a six-month loan holiday that had been agreed with the Royal Bank of Scotland to whom the group made monthly repayments of £50,000.
The paper had relaunched in 2008, the BBC said, with the stated goal of becoming less "sleazy" and more "sexy", abandoning the previous model that had seen it publish some front page stories like 'World War 2 bomber found on moon'.
The company had seen its fortunes improve slightly since 2009 when its founder and former owner David Sullivan rescued it from oblivion with a £1.7m loan in return for a 9.9 per cent stake, with performance in its digital division relatively positive.
The titles' best circulation figures were registered in 2005, when the daily paper registered a circulation of just under 190,000 copies; by comparison, the Guardian has a current daily circulation in the UK of 262,612.
The 2009 rescue, however, had seen the group withdraw its titles from official audits.
The closure of the titles marks the first time since 1995 that the UK national newspaper scene will have lost a title.