IT'S OFFICIAL, GANGNAM Style has literally broken YouTube. The insanely viral music video is the most viewed clip on the website ever, standing at… well, we're not too sure any more.
The Google-owned streaming website had to update their system to account for the phenomenal amount of views the video has received.
They explain:
We never thought a video would be watched in numbers greater than a 32-bit integer (=2,147,483,647 views), but that was before we met PSY. "Gangnam Style" has been viewed so many times we have to upgrade!
Integers are stored in binary, so what happened was that their 32-bit integer simply ran out of characters.
While an upgrade now shows the counter standing at 2152196965, you can see the counter spinning if you hover over it–a sneaky reference to what might have happened if they stayed at 32-bit.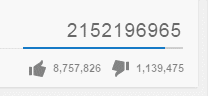 Now, the only thing left to do is listen to it again.
officialpsy / YouTube