TICKETS FOR THE confirmed Garth Brooks shows in Croke Park are already selling at a premium – just a few minutes after the news that two of the five gigs faced an uncertain future.
It emerged shortly after 11am today that the shows on Monday and Tuesday, July 28 and 29, would not go ahead at Croke Park.
Within a quarter of an hour, an ad had been placed on DoneDeal.ie for "GUARANTEED" Garth Brooks tickets for the Friday night at €100 each:
DoneDeal.ie DoneDeal.ie
Previously, tickets for all night had been selling on the site for around face value (€70-€80).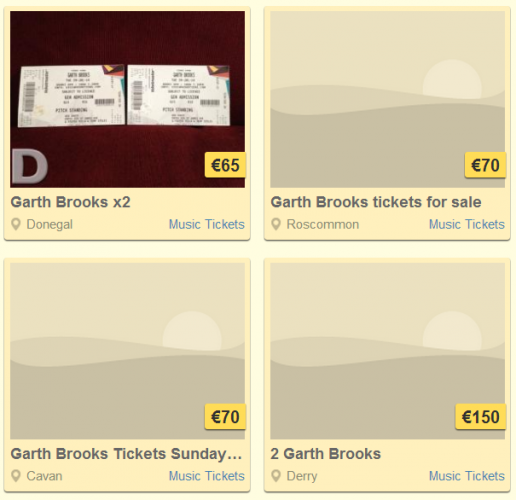 Several other new ads have also appeared. One is offering two tickets for the Saturday night at €350 – meaning they are €175 each, or more than twice their face value.

Another offers a single ticket for €100 – while a third simply offers to sell to the highest bidder.
donedeal.ie donedeal.ie
But you have to feel sorry for the person who placed an ad an hour ago selling a single ticket for the now-in-doubt Monday night – at a knock-down price of €40.
donedeal.ie donedeal.ie