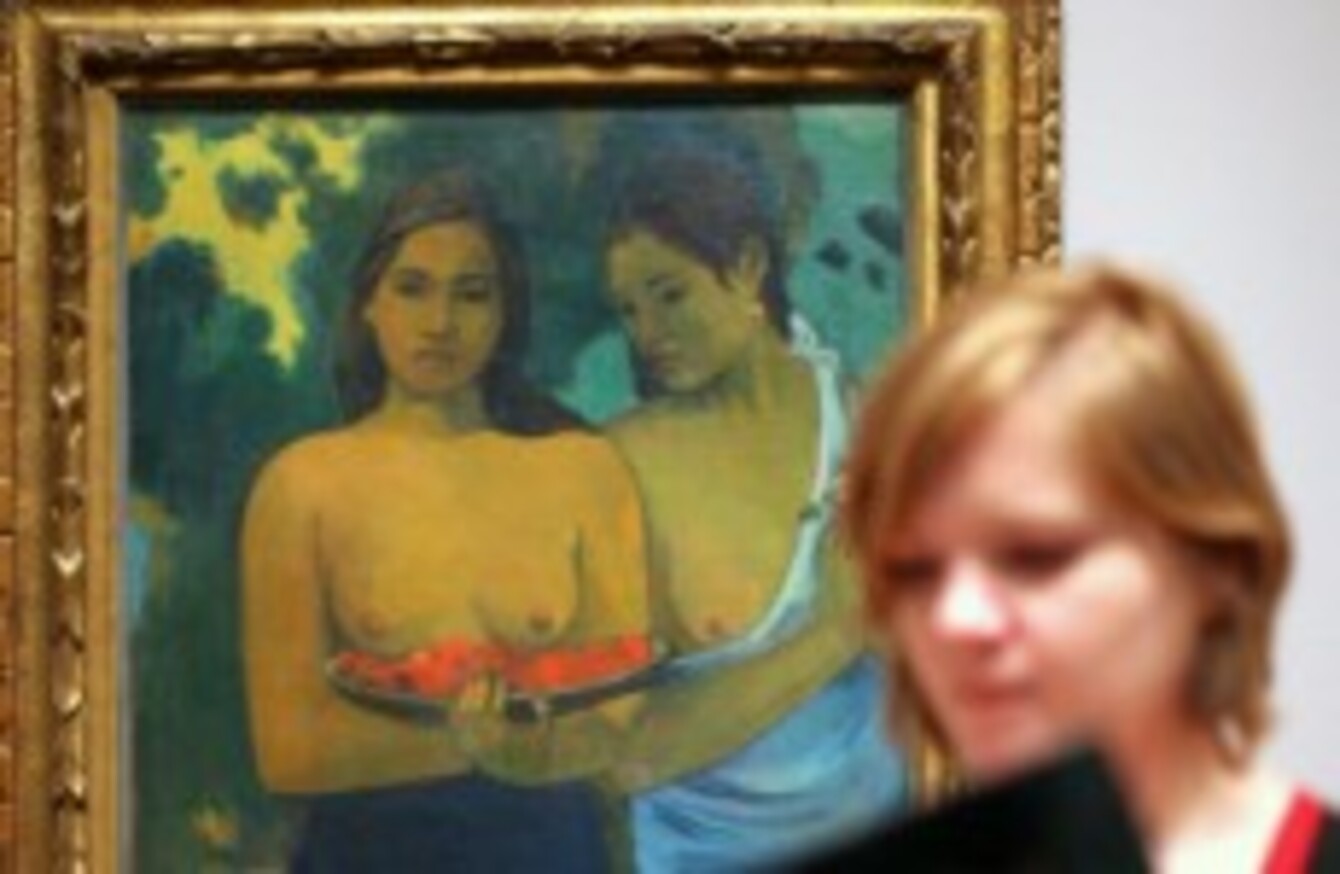 File photo f 'Two Tahitian Women' - diplayed in London, 2010.
Image: Katie Collins/PA Archive/Press Association Images
File photo f 'Two Tahitian Women' - diplayed in London, 2010.
Image: Katie Collins/PA Archive/Press Association Images
A PAINTING BY Paul Gauguin that was hanging in the National Gallery in Washington DC has been attacked by a woman who claimed that the artist was "evil" and the work itself "very homosexual".
The accused, 53-year-old Susan Burns from Virginia, attempted to rip the 112-year-old painting from the gallery wall and to smash the plexiglass panel covering the painting with her bare hands.
Burns told police the post-Impressionist artist was "evil" and the painting should be burned, court documents show.
Burns has been charged with attempted second-degree theft and destruction of property following the attack last Friday. She was being held without bail pending a mental health hearing on Tuesday.
The Gauguin painting, "Two Tahitian Women," valued at an estimated $80 million, was not damaged and will go back on view Tuesday, the National Gallery said in a statement. The picture is on loan from the Metropolitan Museum of Art in New York for an exhibit titled "Gauguin: Maker of Myth."
The painting depicts two women standing next to each other, one with both breasts exposed and the other with one breast showing.
According to charging documents, an investigator told Burns her rights and asked why she had tried to remove the painting.
"I feel that Gauguin is evil. He has nudity and is bad for the children. He has two women in the painting and it's very homosexual. I was trying to remove it. I think it should be burned," according to the documents.
Burns also said: "I am from the American CIA and I have a radio in my head. I am going to kill you", according to documents seen by the Associated Press.
Her attorney, Sharon Weathers, declined to comment Monday.
Burns approached the painting around 4.45 p.m. Friday, grabbed the frame and pulled the bottom part off the wall, causing screws to fall to the floor, according to the documents. She then began banging on the middle of the painting with her fist.
Burns was quickly apprehended by the museum's federal protection services officers.
The painting was protected by a transparent plastic shield.
It was the first documented case of someone trying to deface a painting at the gallery since the 1970s, spokeswoman Deborah Ziska said. She said the gallery's security procedures worked.
Gauguin (1848-1903), a Frenchman, first traveled to Tahiti in 1891 and was known for his erotic portraits of local women and for his moral failings — including sexual relationships with his underage models.
Additional reporting by AP