BE STILL OUR beating hearts. Reports this morning suggest that George Clooney, the Cloonz, is 'set to star' in a Christmas Special of Downton Abbey.
SCREAM.
While the actor did visit the abbey at Highclere Castle in May, it was just for the set tour with his finance Amal Alamuddin, spawning rumours that they may marry there.
Well now, it's being speculated that this was just an elaborate cover-up to conceal the fact he was filming scenes with the cast. According to both E! and the Telegraph, the Oscar-winner filmed a special-guest appearance in Downtown Abbey-themed sketch that will be broadcast around Christmas time. Not quite an episode, but Clooney in the surrounds of the abbey sounds delightful…
The sketch will appear in an ITV charity telethon Text Santa, think Children in Need or Comic Relief. An ITV spokesperson stressed that Clooney will NOT appear in the Christmas special full episode.
While the nature of his involvement in the story hasn't been revealed, he'll already have a pal on set. Clooney previously starred alongside Hugh Bonneville aka Robert Crawley in The Monuments Men, who will appear in the skit, along with Michelle Dockery.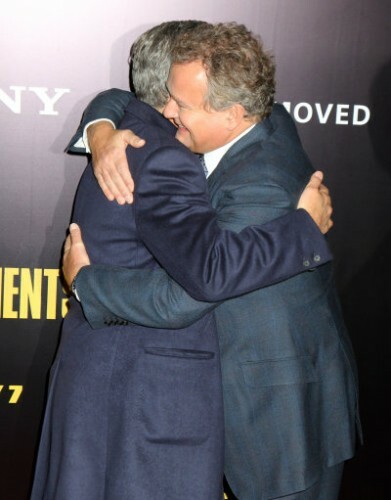 © Steven Bergman / AFF-USA.COM George and Hugh, the lads. © Steven Bergman / AFF-USA.COM / AFF-USA.COM
Last year Cheryl Cole took part in a Coronotion Street sketch for the charity, pulling pints with Michelle Keegan. They're stepping up in the world.
Season 5 of the popular period drama premieres on September 21 on ITV.