LAST WEEK MARKED ten years since nude photos of actress Vanessa Hudgens were leaked and spread across the internet.
In case you have wiped the incident from your memory, here's what happened.
In August 2007, National Enquirer reported that there were nude photos of Vanessa Hudgens doing the rounds that could threaten her career. The tabloid magazine reported at the time that Hudgens had taken the "suggestive" photos for her High School Musical co-star and then-boyfriend Zac Efron.
Days later, the images surfaced on the internet and quickly spread like wildfire. Hudgens confirmed the authenticity of the photos with a rep telling TMZ that the photos were "taken privately" and stated that it was "unfortunate" that they had made it into the public domain.
Hudgens was just 18 years old at the time and one of the Disney Channel's biggest stars. The photos were leaked without her consent. It was a gross violation that the actress has since described as "by far the worst moment" of her career.
Despite this, Hudgens was the one that was forced to shoulder the blame for the incident. She released a statement at the time apologising profusely to her fans and stated that she regretted taking the photos.
I want to apologize to my fans, whose support and trust means the world to me. I am embarrassed over this situation and regret having ever taken these photos. I am thankful for the support of my family and friends.
Disney Channel doubled down and described it as "a lapse in judgment" and said that they hoped she had learned her lesson.
Vanessa has apologized for what was obviously a lapse in judgment. We hope she's learned a valuable lesson.
Yes, let's hope that the literal teenager has learned a lesson from being the subject of a gross violation and invasion of privacy. Because she's the one that's culpable here, right?
Hudgens didn't garner much sympathy from the media either. Instead, she was shamed for taking the photos in the first place while others delighted in describing the specifics of the photo. (An Associated Press report from the time refers to "a coquettishly smiling Hudgens posing naked in a bedroom with a red curtain behind her".)
Metro Metro
E! E!
One Entertainment Weekly columnist even went to far as to posit that she leaked them herself.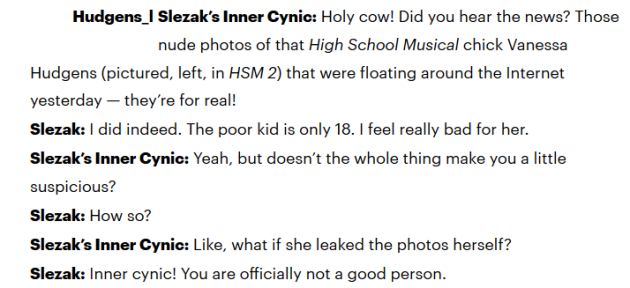 Entertainment Weekly Entertainment Weekly
In the decade since the leak, several other female celebrities have been the victims of similar hacks. In 2014, the likes of Jennifer Lawrence, Kate Upton, Kaley Cuoco and Kirsten Dunst were among dozens of female celebrities to have intimate photos leaked and distributed across the internet in what became known as The Fappening.
The hack was widely condemned and none of these actresses were forced to grovel for forgiveness in quite the same way as Vanessa Hudgens was seven years previously. There was widespread acknowledgement that a crime had occurred and lots of coverage centred on the subsequent investigation, as opposed to the photos themselves.
Despite this welcome shift in media coverage, there were still some commentators that felt the women were at least partially to blame for taking the photos in the first place. They issued admonishments like, "If you don't want nude photos leaked, don't take nude photos."
To some people, there is nothing more threatening than a young woman exercising sexual agency. Go home with someone for a one-night stand? Sure, you're practically daring them to attack you. Take nude photos? What kind of harlot are you?
As a result, when sexual crimes are committed against women – rape, sexual assault, sexual harassment, revenge porn – there are always whispers that the victim didn't do enough to prevent the crime.
She should have been more careful. She shouldn't have drank so much. She shouldn't have gone home with someone she just met. She shouldn't have walked home alone. She shouldn't have sat in the front seat of the taxi.
Last week, Newstalk's George Hook came under fire for asking, "But is there no blame now to the person who puts themselves in danger?" in relation to a case of a young woman who alleges she was raped by a British swimmer after having consensual sex with his friend.
Hook, who has since been suspended from the station for his comments, also went on a diatribe about the "personal responsibility" of young women and sought to determine the difference between the types of women (or, to use his language, "daughters") who have sex after a night out and those who don't.
There is personal responsibility because it's your daughter and it's my daughter. And what determines the daughter who goes out, gets drunk, passes out and is with strangers in her room and the daughter that goes out, stays halfway sober and comes home, I don't know. I wish I knew. I wish I knew what the secret of parenting is.
Let's be clear: consenting adults meet in bars and go home together all the time. In fact, you more than likely know someone who met their significant other after scoring them on a night out. This isn't a rare occurrence and there isn't anything wrong with it once both parties are consenting adults.
In the vast majority of cases, the worst thing to happen after such an encounter is an awkward conversation the next morning. It's insane to suggest that a woman is flirting with danger or asking to be raped if she chooses to have a one-night stand or has one too many drinks.
It's also gross and regressive to imply that the "daughters" who have one-night stands are somehow less pure and virtuous than the "good daughters" who come home. You're not a "bad woman" if you enjoy having sex – you're a sentient human being.
What do the "asking for it" crowd want exactly? Do they expect grown women to keep their legs crossed, stick to two West Coast Coolers on a night out, and refrain from having sex until any prospective partner has undergone Garda vetting? Do they want young women to grow up feeling afraid of enjoying themselves too much or viewing all men as potential predators?
Instead of policing young women's sexuality and engaging in victim blaming, figures like Hook (and those who wagged their fingers at Vanessa Hudgens back in the day) would be better served asking themselves why sexual crimes are the only crimes in which the victim is somehow also at fault.
Let's do better by victims of sexual crimes. Let's believe them. Let's refrain from judging them. Let's have empathy and compassion for them.
Rape Crisis Centre 1800 778 888
Samaritans 116 123 or email jo@samaritans.org
National Suicide Helpline 1800 247 247 – (suicide prevention, self-harm, bereavement)
Aware 1800 80 48 48 (depression, anxiety)
Pieta House 01 601 0000 or email mary@pieta.ie – (suicide, self-harm)
Teen-Line Ireland 1800 833 634 (for ages 13 to 19)
Childline 1800 66 66 66 (for under 18s)