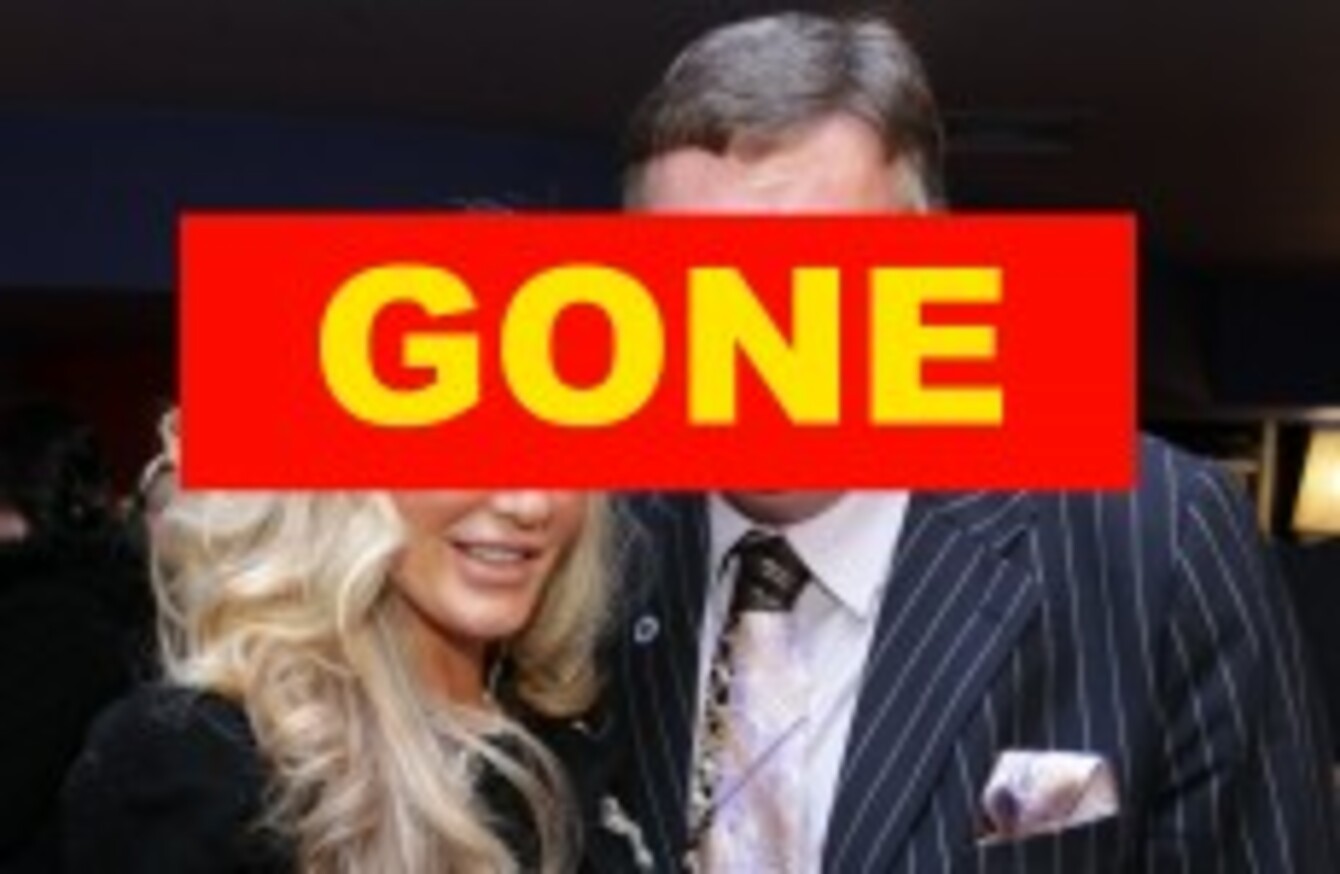 Image: Photocall Ireland
Image: Photocall Ireland
EVERY WEEKDAY MORNING, DailyEdge.ie rounds up the best of the day's celebrity dirt – from the top to the very bottom.
#SPLITSVILLE: Are you sitting down? OK, brace yourself: Gerald Kean and Lisa Murphy have split up. Again. For good.
Yes, the couple who brought you this unforgettable, Celtic-Tiger-defining image of themselves dressed up as Louis XVI and Marie Antoinette – because everyone knows how well that ended – have gone their separate ways.
According to the Irish Daily Mirror, they finally called off the relationship – having given it another go following their first split – "after discovering they didn't romantically have feelings any more".
This means that the last vestige of the boom years is gone. The future is bleak, people. Bleak.
Photocall Ireland
#MEET THE SMITHS: Will Smith is officially the world's most embarrassing dad.
First, imagine being a 14-year-old boy and having to kiss your father, on the mouth, in public.
Then imagine you were a semi-celebrity in your own right, with permanently raised eyebrows and a dubious line in headgear. Then – and only then – can you imagine the living hell experienced by Jaden Smith at this moment on live TV:
God love you, Jaden. God love you.
#JEAN-LUC: Patrick Stewart is a hero of ours. Why? Because (a) he had the finest Star Trek catchphrase of all time; (b) he made the best scene in Extras, and (c) he had his first pizza slice at the age of 72 because he was feeling hungover.
Well frankly, this only cements our warm, warm feelings about him.
#CAN'T HELP FALLING IN LOVE: Toby Anstis went on dates with Priscilla Presley.
Has that sunk in yet? Yes, that's Toby Anstis from Going Live:
and yes, that's Priscilla Presley, ex-wife of Elvis, who at 68 is 27 years his senior. Anstis described their dates and frankly, they sound weird:
As a kid watching Dallas, I fancied the pants off her. She was beautiful and still is if I'm honest. She's absolutely fascinating to chat with [...] she was genuinely interested in me, and asking about about my TV stuff. It's not all about her.
Also:
She obviously spends a lot of time in Graceland and I remember her saying how recently she looked up and heard Elvis coming down the stairs.
That's fine then. (Mirror)
You may remember Priscilla from the Naked Gun movies:
YouTube/retrowhiztv
And the rest of the day's dirt…