LAST FRIDAY, ERICA Edgerly shared the following photo of her younger sister.
In a Facebook status, Edgerly wrote that her sister was sent home from school for wearing the following outfit.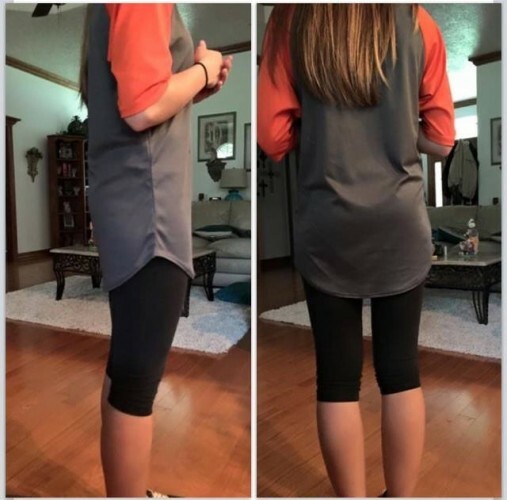 Facebook Facebook
Seems completely harmless, right?
So, what exactly was inappropriate about it? Apparently the length of the shirt did not abide by the school's rules, which must be "fingertip length".
The front and back of her shirt were that length. But the small part on the sides was not.
Edgerly was appalled by the school's decision and decided to write an impassioned status on how the school was guilty of body shaming her sister.
People wonder why women feel insecure about their bodies or what they wear.. And it's because you're told your clothing is inappropriate when you're completely fully clothed, even when you're not showing cleavage or anything.
She explained how she felt that the school's decision was emblematic of "rape culture" in modern society.
Bottom line, girls cannot go to school in comfortable clothes THAT COVER EVERYTHING because school systems are afraid that hormonal boys won't be able to control their eyes and minds. And that is such a bigger problem than worrying about clothing.
…this is not an inappropriate outfit, yet some are worried it might be seen that way, so they send girls home to change to try to avoid an issue and THAT is the problem.
The post evidently struck a chord with many as it has since gone viral and been shared over 87,000 times on Facebook.
In a follow-up status yesterday, Edgerly stated that she had received numerous correspondences from both parents and daughter who had endured similar experiences.
So many young girls (and their mothers) have messaged me thanking me because their school sent them home for being fully clothed, but one part of their outfit hugged one part of their God given bodies a little too tight, and was seen as inappropriate and that is the real issue here.
She has since taken to Twitter to thank everyone for their support.