MATT DAMON AND George Clooney have been doing the press rounds in the US this week promoting their new film Suburbicon.
But as two actors who had strong relationships with Harvey Weinstein's Miramax studio in the '90s and beyond, they have faced persistent questions on what they knew about the sexual assault scandal that's engulfed the mogul over the past month.
So yesterday, they sat down as a pair with Good Morning America to address it
Damon answered first. What were his experiences of Weinstein?
"I was there at the height of his power. What you knew back then was… you had to spend about five minutes with him to know that he was a bully, he was intimidating. That was his legend. That was his whole MO. Could you survive a meeting with Harvey?"
GMA GMA
"When people say 'everybody knew' – yeah, I knew he was an asshole. He was proud of that. That's how he carried himself. And I knew he was a womanizer. I wouldn't want to be married to the guy – that's not my business, really. But the criminal sexual predation is not something that I ever thought was going on. Absolutely not."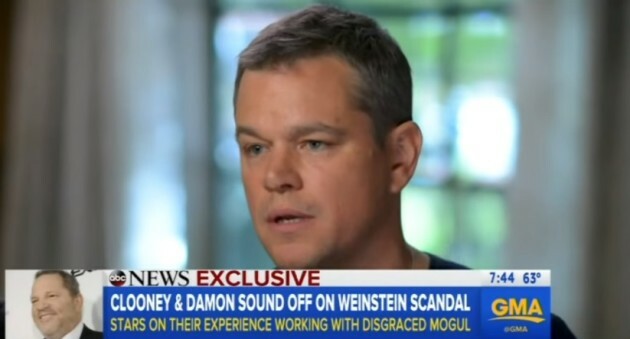 GMA GMA
He had, however, heard about Gwyenth Paltrow's story of working with him, when Weinstein "placed his hands on her and suggesting they head to the bedroom for massages":
I knew the story about Gwyneth from Ben, because he was with her after Brad – so I knew that story. But I was working with Gwyneth with Harvey on Ripley. I never talked to Gwyneth about it, Ben told me. But I knew that they had come to whatever agreement or understanding, she had handled it and she was, you know, the First Lady of Miramax and he treated her incredibly respectfully, always.
Next, Clooney said that Weinstein bragged to him about many affairs he was having:
"Harvey would talk to me about women that he'd had affairs with – I didn't necessarily believe him, quite honestly, because to believe him would be to believe the worst of some actresses who were friends of mine. And I didn't really think that they were going to have affairs with Harvey, quite honestly. And clearly they didn't. But the idea that this predator, this assaulter … was out there silencing women like that, it's beyond infuriating."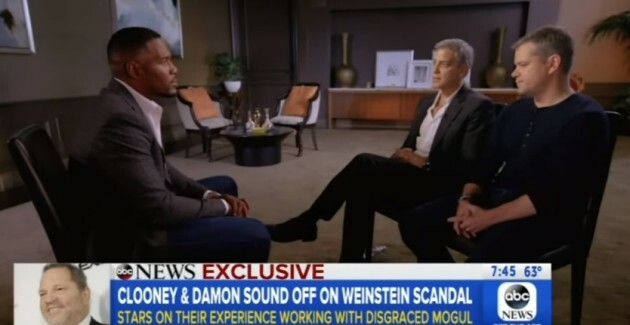 GMA GMA
Clooney continued:
There has to be a comeuppance for this. We have to make it safe for people to feel that they can talk about this. And in doing that, I think that'll scare away that kind of behavior.
This is the first time the pair have spoken in detail on the scandal since their original statements at the start of the month.
DailyEdge is on Instagram!