A FILM FESTIVAL to honour Hollywood actress Grace Kelly on the 30th anniversary of her death is taking place in Co Mayo this month.
According to the organisers of the Grace Kelly Film Festival, her son, Prince Albert, has even given his blessing but regretfully cannot attend.
There will be a Grace Kelly look-a-like competition and vintage afternoon tea, as well as a cocktail night, movie quiz and screenings of all her classic films such as High Society, Rear Window and To Catch a Thief.
So what exactly connects Ireland and Grace Kelly? Lots it seems:
Ancestry: The link begins with Grace's grandfather, John Peter Kelly, who was a bricklayer from Newport in Mayo.
He was born in 1857 in Drimurla but left Ireland in 1887 for Philadelphia where he founded one of that city's leading construction companies and made his family's fortune.
Interested in where she came from, the actress visited Ireland on three occasions in 1961, 1976 and 1979. During her first trip, she visited the old cottage where her grandfather had lived.
Irish Lives Remembered reports that during her second visit Grace purchased the old family homestead and 35 acres of land for £7,800.  Her third and last visit was in 1979 where she looked into possibly building a holiday home at Drimurla. However, that dream never materialised.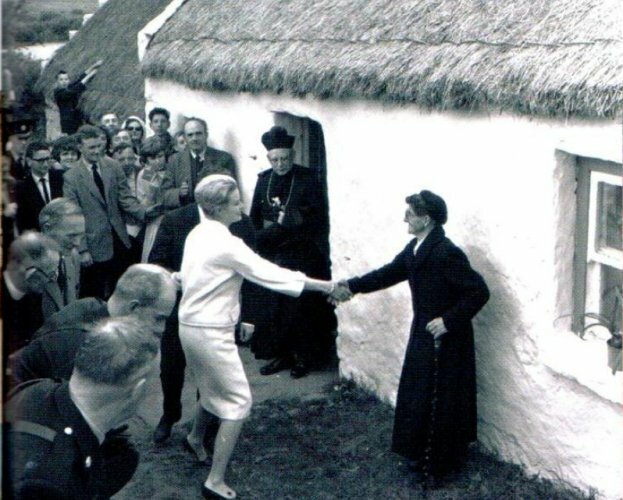 (Via The Grace Kelly Film Festival)
Museum Collection: Even though Princess Grace was actually born in Philadelphia in the US, the Irish have somewhat claimed Grace as their own and in doing so, we claimed her great fashion sense too.
Some of the outfits she wore on her first visit to Ireland, including a Givenchy green sleeveless dress, are on display at the Newbridge Silver Museum of Hollywood Icons.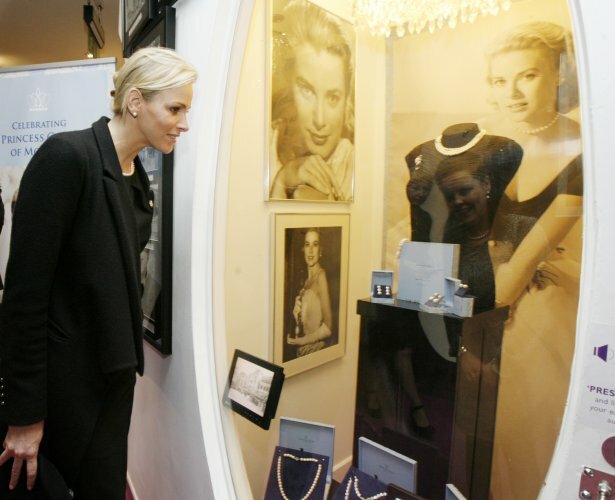 Charlene Wittstock visits Newbridge Silverware Museum of Style Icons. Ms. Charlene Wittstock, fiance of H.S.H. Prince Albert of Monaco, is pictured during her official visit to the Newbridge Silverware Museum of Style Icons. (Mark Stedman/Photocall)
Her son: If anything keeps us connected to Grace Kelly it is her son, Prince Albert of Monaco, who visits here regularly.
Prince Albert has many Irish friends, including one of Ireland's wealthiest businessmen, Michael Smurfit. Prince Albert has celebrated his birthday at The K Club and last year he visited Ireland to commemorate the 50th anniversary of his mother's official visit to the island.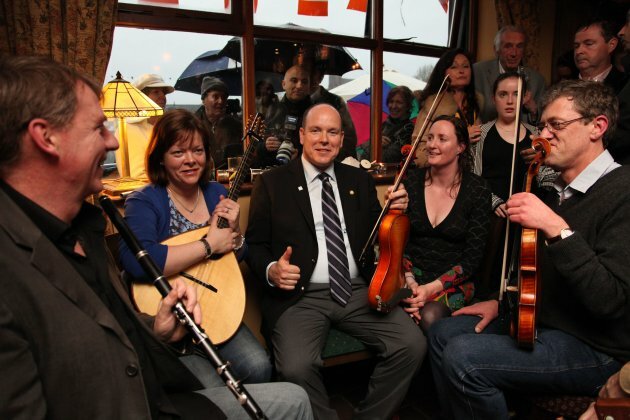 Prince Albert II of Monaco enjoying a traditional Irish Music Session in the Grainne Uaile Pub in Co Galway during the last day of his visit. (Photocall/Ireland)
A University research post: Last year, while on his visit to Ireland, Prince Albert revealed another thing that we can say connects Ireland to Grace – a college fellowship in her name.
The fellowship in Trinity College is something the Prince said "confirms the wonderful, friendly, long-lasting, historical links between Monaco and Ireland" and he said he was "touched by the gesture".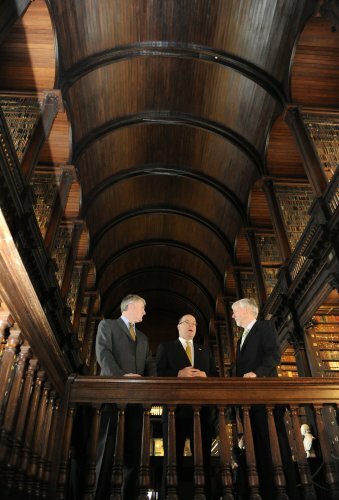 Prince Albert II of Monaco as he visit the Trinity College in Dublin. (Sasko Lazarov/Photocall)
A hotel room: Did you know that while on her travels in Ireland Grace Kelly stayed in The Gresham Hotel on O'Connell Street. They are so proud that the actress rested her head there once that the penthouse is actually called "The Grace Kelly Suite".
Grace seemed to have good craic here as awell:
Grace Kelly in Ireland

Grace Kelly shakes hand of local woman while visiting Newport in 1961.

Grace Kelly in Ireland

Grace Kelly visits Newport, 1961. (Via The Grace Kelly Film Festival)

Grace Kelly in Ireland

Grace Kelly visits Newport, 1961. (Via The Grace Kelly Film Festival)

Grace Kelly in Ireland

Grace Kelly visits Newport, 1961. (Via The Grace Kelly Film Festival)

Grace Kelly in Ireland

Prince Rainier and Princess Grace of Monaco show their children, Princess Caroline and Prince Albert, a sundial in the grounds of Carton House, Co. Kildare, the Irish home of Lord Brocket, during a holiday in Ireland. (Photocall Ireland)

Grace Kelly in Ireland

Princess Grace of Monaco uses a black-throne stick and wears flag heeled shoes, as she makes her way under escort of the Rev. Father to Cummins, left, and an unidentified man, during pilgrimage to the shrine of St Patrick at Croagh Patrick, Westport in 1961. (AP Photo)