THIS GRANDFATHER'S LOVELY GRADUATION sign is going viral.
The photo was initially shared by UniLad, but uploaded to Tumblr where it was reblogged thousands of times.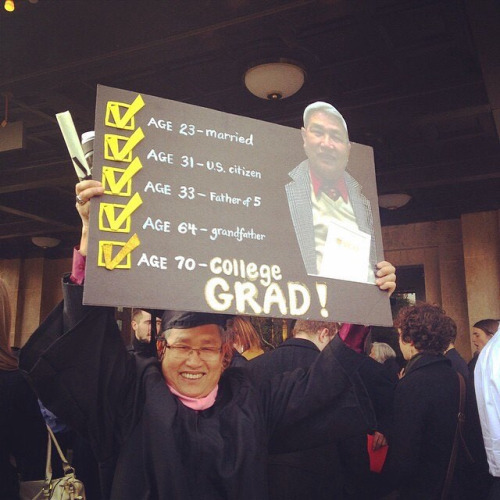 Tumblr blackeducatedurbane Tumblr blackeducatedurbane
A comment under the image when it was shared on UniLad claimed the man is called Tap Kieu, a Vietnamese man who 'left his country during a time of persecution wearing only one shoe'.
After a long life building for his family, he wanted to go back and do this for himself. His lifelong dream was to be a choral director, so he studied music and made his dream come true. Go Tap, VCU Music class of 2015!
Buzzfeed were able to confirm that Kieu was a graduate at Virginia Commonwealth University and are 'certainly proud of him' and 'know he'll go on to do great things!'
<3