Welcome to Skin Deep with Louise McSharry, my opportunity to put years of obsessing over beauty products and techniques to good use. I won't tell you something is good if it's not. I won't recommend products I haven't actually tried. As the magical sitar in Moulin Rouge said, I only speak the truth.
When it comes to my hair, I'm pretty adventurous.
I've spent the last ten years avoiding any colour that looks like it could naturally have occurred, shaving bits of my head with a one blade, and, of course, bald. Although the last one wasn't exactly my choice – thanks chemo!
I am coming into a phase of my life where I'm going to have to get a little bit more sensible. All the bleach and crazy colours have wreaked havoc on my hair's condition, and I simply don't have time to do it most of the time, which means it ends up in a bun on top of my head. I know that if I moved toward a more natural colour I could nurse my follicles back to strength, and embrace its natural wave, which is a lot less high maintenance.
With that in mind, I've decided to make the next year or so about colour. Bright, vivid, could never possibly be natural colour.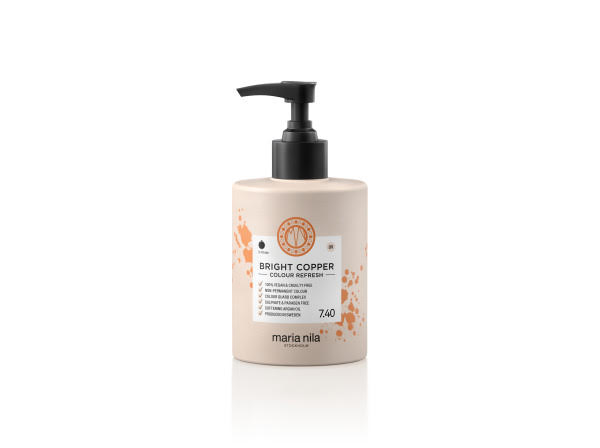 The thing about mad colours is that they are really difficult to maintain. They look great in the salon on the day, but a couple of washes later they've disappeared (unless it's blue, if it's blue you're basically stuck with it forever*). I was bemoaning this fact to someone a couple of months ago, when she said, 'Oh babes, I've got the answer!' She had consistently pink hair, so my ears immediately perked up. 
The product she told me about is Colour Refresh by Maria Nila Stockholm and it's basically a highly pigmented nourishing mask. Or masque, as they like to call them when they're feeling fancy. Essentially, this is a conditioning treatment packed full of colour, which can be applied in your own bathroom at home.
In Ireland it's available in Sally Beauty and online, and is vegan and cruelty-free.
I picked some up straight away, and decided to combine the range's pink and copper shades in the hope of producing a peach (they didn't have a peach option at the time, but they've introduced one now). I took a shower, washed my hair and then using gloves to avoid staining, lashed the mix all over my hair. I left it on for about seven minutes, and POW, the results were amazing. I went from white blonde, to this.
I couldn't get over the consistency of the colour and how nice my hair felt after using it. The fact that I had a tub of the product in my bathroom meant I didn't have to stress about it disappearing after two washes, which was fantastic. At last, it seemed like I might be able to maintain the colouredy hair of my dreams! 
Since I started using it, I've experimented with the colour mix, and have come to the conclusion that at the moment I like orange hair, so I'm just using the copper on it's own. I'll probably start adding some pink in again in a little while, and then I may go on a solo pink journey. I truly feel like the colour world is my oyster.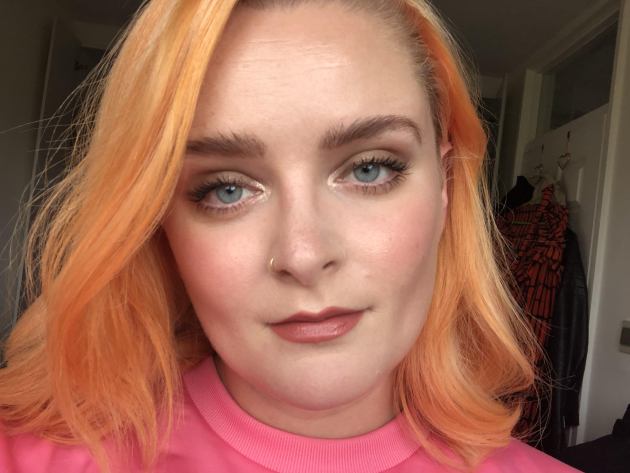 The one thing I have to warn you about, however, is that I don't believe my hair will return to it's original pure blonde self without intervention from my professional colourist (Aimee in Sugarcubed). The pink seems to wash out well, but I think the orange in the copper has stained it a little.
I'm ok with this, but it's worth keeping in mind if you're someone who doesn't want to deal with lasting effects. I can imagine that this issue could be more prevalent with the blue and purple shades too, as those are notoriously difficult to shift. If you're concerned about this, it might be worth testing on a small section of hair to see how you get on.
Finally, if you don't have white blonde hair, you can still use these products. The results won't be as vivid, but you will get a tint, and the more natural shades can help maintain your salon colour. 
New Product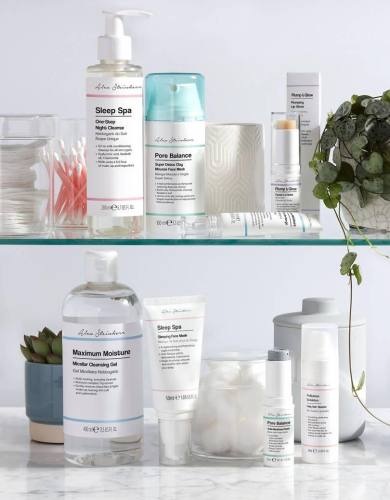 Alexandra Steinherr's beauty credentials are rock solid. She spent years as Glamour's Beauty Director before becoming a full-time beauty influencer, and if there's one thing she knows, it's skincare. Despite having established relationships with high-end luxury skincare brands across the globe, she chose to team up with Penneys because she felt quality skincare was really lacking at accessible price points. Her twenty-piece range will be rolling out in selected stores around the world from next week, and it's looks rock solid, with ingredients like Hyaluronic Acid, Niacinamide and Squalene. Prices range from €4-6. 
DailyEdge is on Instagram!