HAPPY FEET, the penguin found 3,200km from home on a beach in New Zealand in June, is to be released back into the wild today.
The Emperor penguin started the first leg of his journey home to Antarctica today after a massive farewell bash at Wellington Zoo yesterday. More than 1,700 people turned up to the zoo to say goodbye to Happy Feet.
Hundreds of people dressed up in black-and-white, while others had their faces painted in "penguin colours".
Among the many people attending the themed-party was Stephen Fry, who tweeted a picture of himself with Happy Feet.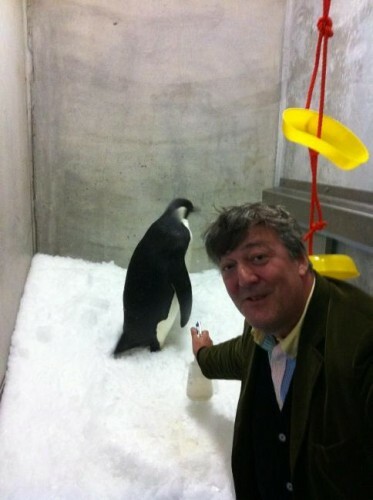 The confused penguin is to travel back to the subantartic on a research vessel belonging to the National Institute of Water and Atmospheric Research (NIWA).
The crew on board the NIWA vessel, Tangaroa, will release Happy Feet in about four days when they reach 53 degrees south, said Wellington Zoo. During the trip, he will continue to be cared for and fed by the zoo's veterinary science manager, Dr Lisa Argilla.
He will be kept cold and comfortable in a custom-made travel crate:
[caption id="attachment_212700" align="alignnone" width="333" caption="Image courtesy of Wellington Zoo"]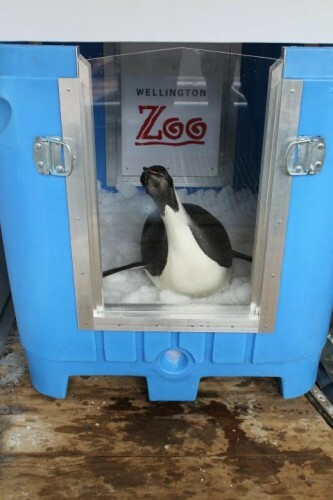 [/caption]
As Happy Feet has captured the attention of people across the world, Wellington Zoo decided to fit him with a GPS tracker so he can be located at all times and his progress can be followed online.
"We are really pleased that NIWA will be releasing the emperor penguin," said the zoo's CEO Karen Fifield. "This is an excellent result for everyone involved, and for the penguin, and is a great example of organisations working together for the best outcome."
Since he was found on June 20, about US$28,000 has been spent on his rehabilitation and care. He was transferred to the zoo after he became sick from eating sand, which he seemingly mistook for snow.
Emperor penguins are the tallest and largest species of penguin and can grow up to 4 feet high and weigh more than 75 pounds. They typically spend their entire lives in Antarctica. It has been 44 years since an Emperor penguin was last spotted in New Zealand.
Follow Happy Feet's travels or sign his farewell card here. Over 1,200 people across the world have already left their own greetings.
-Additional reporting by AP