SIPA USA / PA Images SIPA USA / PA Images / PA Images
HARRY STYLES HAS been everywhere in the last couple of weeks – from releasing Sign Of The Times to *that* Rolling Stone interview.
And yesterday, Apple Music dropped a 30-second-long trailer for a behind the scenes documentary about the making of his new album.
And in it, fans think they've discovered a song all about Taylor Swift
Their relationship from back in 2012/2013 has always been a source of fascination – with Swift's songs often cited as being potentially about Styles.
Now the shoe is on the other foot.
The song in question is called Two Ghosts – and the documentary shows the lyrics for a split second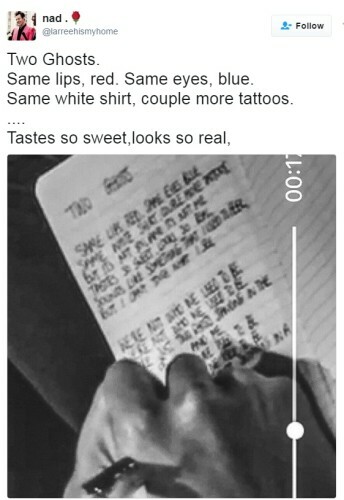 @larreehismyhome Twitter @larreehismyhome Twitter
And that's where the theory comes in.
The crucial lines to look at are:
Same lips red, same eyes blue
Same white shirt, couple more tattoos
But it's not you and it's not me
Tastes so sweet looks so real
Why? Well Taylor released a song in 2014 called Style – which is universally accepted to be about the former One Direction man (the name alone, for starters)
Importantly, the lyrics to that song contain these sections:
You got that James Dean daydream look in your eye
And I got that red lip classic thing that you like
You got that long hair, slicked back, white t-shirt
Hardly the most subtle references back to Style from Harry then.
So now fans are waiting for the full song to come out - but their minds are already made up
We already knew that there would be some sort of song about their relationship after he told Rolling Stone, when asked about Taylor:
Certain things don't work out. There's a lot of things that can be right, and it's still wrong. In writing songs about stuff like that, I like tipping a hat to the time together. You're celebrating the fact it was powerful and made you feel something, rather than 'this didn't work out, and that's bad.
Case closed, surely
*removes tinfoil hat*
DailyEdge is on Snapchat! Tap the button below to add!