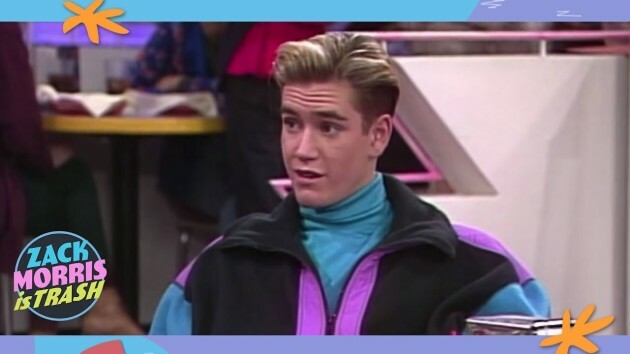 Youtube Youtube
IF YOU GREW up in the 80s or 90s, there's a pretty good chance that you once believed that Zack Morris was the coolest teenage boy who ever lived.
From when Saved By The Bell first aired between 1989 and 1992 (and for many years after), Zack's seemingly innocent adventures were admired by kids across the world. His sense of humour, charm and good looks helped him get out of every sticky situation that he found himself in.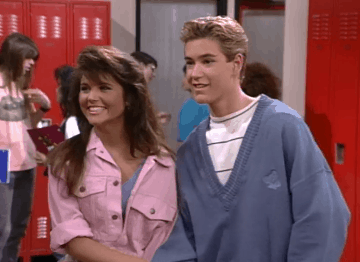 Giphy Giphy
However, by today's standards, Zack Morris was an absolute little shit.
A new series on Youtube by Funny Or Die, aptly named 'Zack Morris Is Trash' has been going through every episode of Saved By The Bell and noting all the ways in which Zack was basically just a little bollix.
Once you start watching, you won't believe how annoying Zack Morris actually was. This episode serves as a prime example:
Mr. Belding calls the students into his class to pick a senior class community project. Zack shows up late because he was stealing a kid's breakfast and sexually harassing his first girl of the day.
Tori suggests a teen line where youths can anonymously call in with their problems. The only rules? Never ask a caller for their last name, never ask a caller for their home number and never ask to meet up with them. So naturally, Zack ignores all of that shit immediately.
Funny Or Die / YouTube
This episode of Zack Morris is trash points out what an awful person Zack was, for asking the caller for her details after he decides that she must be hot based on her voice. He then asks her out on a date, and the narrator spots that the restaurant has tablecloths for once, which is highly unusual.
When Zack shows up for the date at The Max – on tablecloth day, I guess, because I've never seen tablecloths in this place before or ever since – he discovers that she's in a wheelchair.
The narrator then points out how completely tactless and inappropriate Zack was in this situation.
He handles the situation with class and grace by saying "Whoa. You're in a wheelchair." Zack then asks the thoughtful and sensitive questions "Why didn't you tell me you're in a wheelchair?" and "Do you mind if I asked how it happened?", which are two great questions to ask anyone in a wheelchair the first time you ever meet them.
As the episode goes on and on, it just gets worse. Melissa, Zack's date is perpetually like this:
And that's basically it. There's no resolution. He never becomes a better person.
Amazingly, that's how nearly every single episode of Saved By The Bell went, and Zack Morris Is Trash is on a mission to document that.
If you are looking to waste an hour or two, these videos will keep you occupied and in awe of what an awful person Zack Morris really was.
DailyEdge is on Instagram!