PHILIP SEYMOUR HOFFMAN was found dead yesterday in his New York apartment.
The actor had long been dealing with addiction, having last been in treatment in May of 2013.  While no official cause of death has been released, it is being reported that he is thought to have died of a drug overdose.
Thousands have voiced their sadness on social media, and overnight, Sir Ian McKellen took to Facebook to write this touching tribute.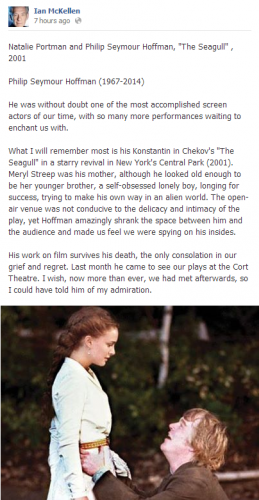 Philip Seymour Hoffman was an accomplished actor, having been nominated three times for a Tony award, as well as three times as best supporting actor at the Academy Awards.
In 2005, he won an Oscar for his performance in Capote.  His acceptance speech was endearing in its authenticity.
Oscars