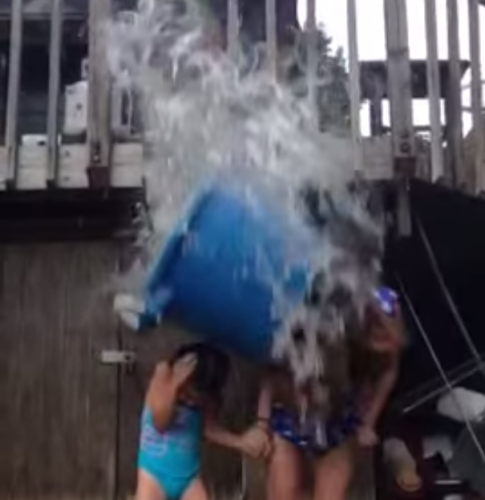 A still from the video, in which nobody was seriously hurt
HAVE YOU HEARD the sad tale of Nancy Oley?
She was nominated for the ice bucket challenge in her backyard in Mississippi, and enlisted her cousin Shawn to help. According to the popular version of the story:
Tragically, the bucket slipped out of Shawn's hand crashing onto Nancy's head. Nancy was rushed to the University of Mississippi Medical Center in critical condition. She later succumbed to her injuries.
There's even video of the 'tragic incident':
Culinary Arts / YouTube
Here's the problem: that's not 'Nancy Oley' in the video. Nancy Oley, at least in the sense of the person whose story is told here, may never have existed.
In fact, the video shows Therese Todd, who appears to be very much alive. Her Twitter and Instagram bios say she is a student at UCLA.

Instagram Instagram
Todd uploaded the original video - which is painful to watch – herself as an "ALS ice bucket challenge FAIL" ten days ago.
Therese Todd / YouTube
After it went viral, racking up more than two million views, the stories began to circulate about the death of 'Nancy Oley'.

dailybuzzlive dailybuzzlive
It's not clear where they originated, but they were widely shared in Ireland and elsewhere.

ohmygossip ohmygossip
People then began to speculate about Therese's fate in the comments of her own video.

However, in the meantime Therese had been interviewed by major media outlets about her experience. She told Today that rather than killing her, the falling bucket "really knocked the wind out of me."
And eventually, she posted an update to her own video. This pretty much tells the story:
So what actually happened? Todd explained further:
So both the little girl and I are OKAY! The bucket did hit the little girl on the back after some of the water had fallen out but she was fine, just a little scared! After the incident I went to the ER where they took a CT scan and chest x-ray because I got the wind knocked out of me and had trouble catching my breath. The tests came back normal. My back and chest are just kind of sore.
And Todd added in her video description:
Even though it hurt, I'm glad it's made so many people smile!
So yes: this 'ice bucket challenge death' is very much a hoax. There have been other viral death hoaxes around the challenge, too; Snopes.com has a roundup of several here.
However, at least one very real death has been linked to the phenomenon – although not in its traditional 'bucket' form.
Scottish teenager Cameron Lancaster drowned on Sunday evening at a flooded quarry near Fife, amid speculation that he may have jumped into the pool as part of a variant on the ice bucket challenge.
h/t Independent.ie and Snopes